Analysis
Outside powers to retain significant geopolitical influence in South Caucasus
Europe
Political and Economic Risk Monitoring
Outside powers to retain significant geopolitical influence in South Caucasus
---

Russia on 9 November brokered a ceasefire between Armenia and Azerbaijan, ending more than a month of intense fighting between the two countries over the disputed region of Nagorno-Karabakh. In securing the deal and deploying its peacekeepers to enforce it, Russia has reasserted its pivotal role in regional security affairs. Yet its intervention may be too little and too late to prevent a major geopolitical realignment of the region.
While the ceasefire is likely to secure an end to the latest bout of fighting, Russia's enhanced security role will be severely tested as it seeks to impose a lasting peace on two conflict parties, who remain very far from agreeing the terms for a final settlement.
Turkey's support for Azerbaijan played a decisive role in propelling Azerbaijan to its military victory, and this will secure Ankara's greater influence in the South Caucasus.
The Organisation for Security and Co-operation in Europe (OSCE) Minsk Group, the international body formally tasked with mediating the conflict since the 1990s, was side-lined from the Russia-led ceasefire talks and its peacekeeping operation. However, both France and the US will continue to play an important role in defining the long-term political and economic outlook for the conflict and for Armenia and Azerbaijan.
Armenia's territorial losses – codified in the Russia-mediated settlement – will diminish Armenia-Russia ties, and may drive the Armenian government towards a closer partnership with the West.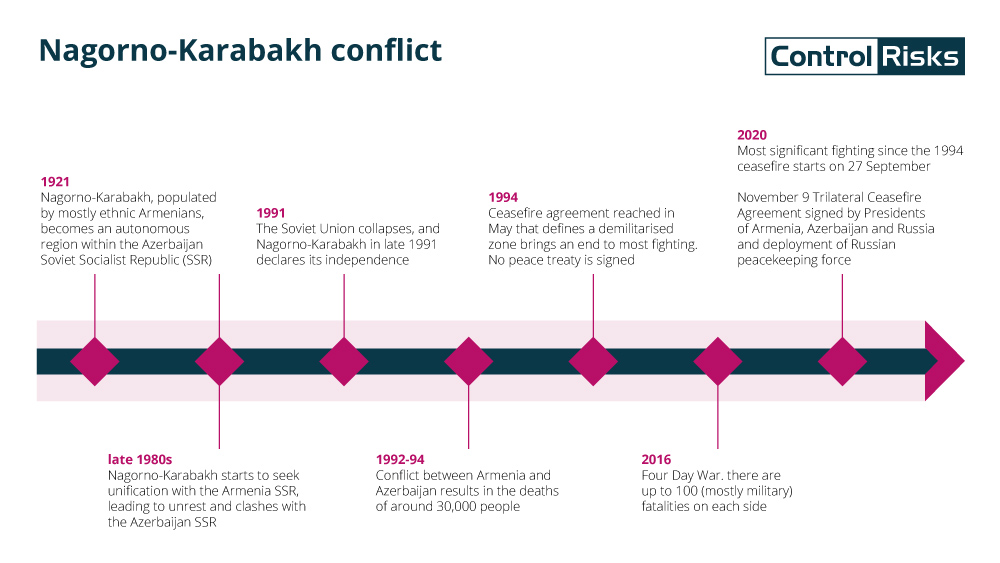 Russia steps in
After demonstrating a reluctance to intervene early to contain the escalation of the Nagorno-Karabakh conflict and failing to secure a humanitarian ceasefire, Russia finally succeeded in brokering a last-minute ceasefire deal that has been decisive in ending the 44-day war.
The trilateral ceasefire agreement– which was signed by the presidents of Russia, Azerbaijan and Armenia without OSCE Minsk Group involvement – stopped the fighting but inflicted a defeat on Armenia that is widely seen in that country as humiliating. Although Armenia was Russia's long-standing military ally, it has now lost control over territories both in and around Nagorno-Karabakh.
The trilateral agreement authorised the deployment of a Russian peacekeeping force (referred to as a peace-making force in Russian official documents), consisting of almost 2,000 service members and military police, equipped with aircraft, drones and tanks. All deployed Russian forces have experience of serving in Syria. According to the Russian Ministry of Defence, their mission will include monitoring ceasefire violations, controlling the Lachin corridor (a road linking Armenia-controlled parts of Nagorno-Karabakh with Armenia) and securing transport flows through it, and preventing crimes again civilians.
While the Russian forces will be deployed primarily on the territories that remain under Armenian control, they will also cover Aghdam region, which is due to be transferred to Azerbaijani control by 20 November. The Russian Federal Security Service will oversee Armenian security measures along the new land corridor connecting Nakhichevan – an Azerbaijani exclave surrounded by Turkey and Armenia – with other parts of Azerbaijan via Armenian territory. This is part of the new land route between Turkey and Azerbaijan.
This deployment expands Russia's military presence in the South Caucasus and establishes the first major Russian military base inside Azerbaijan. Its initial term of five years will be extended if neither side objects.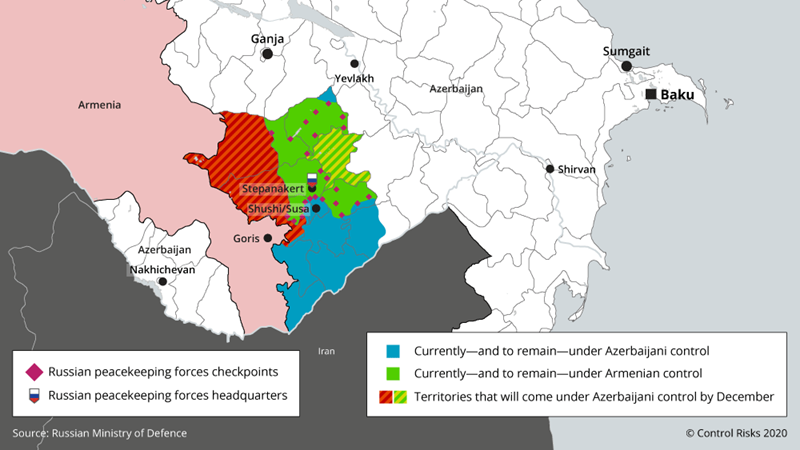 … but the path towards lasting peace remains unclear
How Russia's relations with Armenia and Azerbaijan develop will depend on Russia's ability to translate its success in imposing the ceasefire into delivering a lasting peace in the region. Otherwise, the Russian-brokered deal will end up repeating the mistakes of its predecessor: the 1994 ceasefire agreement. The 1994 deal ended a six-year war and was also brokered by Russia but was not accompanied by a peace treaty and ultimately led to a re-escalation.
Today, Armenia and Azerbaijan remain as far apart on agreeing the terms of a final settlement as they have ever been. The trilateral agreement does not mention key building blocks of peace including the status of the remaining Armenian-controlled territories in Nagorno-Karabakh, the modalities of the return of refugees and internally displaced persons (IDPs), and the terms of property restitution for returning Azerbaijani IDPs. Although Russian forces aim to investigate crimes again civilians, they will not be deployed in Azerbaijani-controlled territories (with the exception of Aghdam), where security tensions and human rights issues are highly likely to arise given the expected large movements of people into and out of these areas.
Whither the OSCE Minsk Group
Russia and Azerbaijan have sent mixed messages regarding their intentions to engage with the OSCE Minsk Group (co-chaired by representatives from Russia, the US and France) in the negotiations of a final political settlement. Russian Foreign Minister Sergei Lavrov spoke with his French counterpart and confirmed that the trilateral agreement builds on the principles developed under the auspices of the Minsk Group, but he did not reconfirm that the group will lead future negotiations on the settlement. Azerbaijani officials, including President Ilham Aliyev, asserted that Baku has no intention of discussing the status of Nagorno-Karabakh, which was not mentioned in the trilateral agreement. Its priority will be to ensure the swift return of Azerbaijani IDPs to the territories that are coming under Azerbaijan's control.
Yet, many in the international community will continue to insist that Armenian rights be protected regardless of Armenia's military defeat. The UN Secretary General welcomed the ceasefire agreement and "commitment by Armenia and Azerbaijan to begin substantive negotiations under the auspices of the OSCE Minsk Group". France's foreign minister called for an immediate resumption of negotiations under the OSCE Minsk Group auspices to "allow for the return of people displaced by the conflict in recent weeks, and for the definition of the future status of Nagorno-Karabakh". Although US President Donald Trump remained largely disengaged from conflict resolution efforts, US President-elect Joseph Biden is likely to take a more pro-Armenian stance, similar to France, given his longstanding links with the Armenian diaspora in the US and statements he has already made advocating that the US cease military assistance to Azerbaijan.
Turkey's regional ambitions
While the future of the OSCE Minsk Group hangs in the balance, the war has propelled Turkey to become an influential player in the region, and Turkey will seek to shape the future settlement in the interests of its ally Azerbaijan. Turkey supported Baku during the war, diplomatically and likely also militarily. Turkey-built drones were indispensable for ensuring Azerbaijani forces' advantage on the battlefield. There are also claims, though Turkey denies these, that Turkish military personnel were embedded with Azerbaijani forces, and that Turkey helped to supply mercenaries who were fighting on the frontline. Moreover, Turkey provided international political backing to Azerbaijan's decision to impose a military solution on the conflict.
Although Russia has managed to exclude Turkey from direct participation in the peacekeeping operation, Turkey will undoubtedly play a very important role in Azerbaijani-controlled territories of the conflict zone and will continue to claim a formal role in the peace settlement talks.
The outcome of the war will cement Turkey's influence in the South Caucasus through several channels:
It has asserted itself as a political actor in future talks on the settlement via its influence over Azerbaijan and likely will continue to push Baku to reject any political compromises.
Turkey will maintain its presence – including military forces – on the ground both through bilateral ties with Azerbaijan (which will seek even closer ties with Ankara to counterbalance Russian military presence on its territory) and via a joint Russian-Turkish centre that will monitor the ceasefire.
Economically, Turkey will grow its share of regional trade by capitalising on its land connection to Azerbaijan and the expected lifting of Turkey and Azerbaijan's economic blockade of Armenia.

Russian-Armenian relations
In contrast with the strengthening of Azerbaijani-Turkish relations, the conflict has inflicted major damage on Russian-Armenian relations. This could have long-term implications for Russia's role in the region. Armenia has always counted on Russian military backing as a key deterrent against Azerbaijani threats to re-take territories by force. Therefore, Armenia maintained close political and military ties with Russia, including hosting its military bases. However, despite Russia's security guarantees, Moscow did not provide direct military assistance to Armenian forces during the 44-day war and was evidently reluctant to do so. Russia instead sought to act as a friend to both parties to secure its place at the centre of an eventual ceasefire.
Some Armenians blame Russia's reluctance to back Armenia on Armenian Prime Minister Nikol Pashinyan who has sought to diversify Armenia's foreign policy since coming to power via a peaceful popular uprising in 2018, by forging closer ties with the EU and US. Armenia now finds itself in a mounting political crisis as opposition parties seek to unseat Pashinyan over his handling of the war. Whoever succeeds Pashinyan is likely to diminish dependence on Russia both economically and militarily (Russian weapons were less effective on the battlefield than Turkish and Israeli drones).
Outlook
The security situation in the region will remain volatile, and this will deter new foreign investment in the next year. However, with the expected removal of the economic blockade and the loosening of Russia's economic grip on Armenia, there could be new opportunities for EU and Turkish companies to expand their operations in the region in the longer term.
You may also be interested in