Assessing Latin America's ability to detect, punish, and prevent corruption
The fight against corruption presented a mixed picture throughout Latin America over the past year.
Latin America continues to struggle with COVID-19 and economic issues like inflation, now compounded by Russia's conflict with Ukraine, have taken precedence over corruption. Many governments in the region have relegated anti-corruption reforms to a lower priority. The overall scenario in 2022 was one of relative stability following the clear setbacks of recent years. Several governments made fighting corruption and strengthening institutions a priority. It was clear that anti-corruption efforts, while under some duress, remain a priority for many citizens throughout the region.
Against this backdrop, Control Risks and Americas Society / Council of the Americas (ASCOA) introduce the third edition of the Capacity to Combat Corruption (CCC) Index.
How can we help? Get in touch with our experts
Webcast | How is Latin America faring in its fight against corruption?
Join Control Risks on June 30th for a discussion on the key findings of the report and the implications for businesses operating or seeking to invest in the region.
View the 2022 CCC Index report
Map of the Overall Score
The CCC Index evaluates and ranks countries based on how effectively they can combat corruption. Countries with a higher score are deemed more likely to see corrupt actors prosecuted and punished. Continued impunity is more likely in countries at the lower end of the scale. The CCC Index looks at 14 key variables, including the independence of judicial institutions, the strength of investigative journalism, and the level of resources available for combating white collar crime.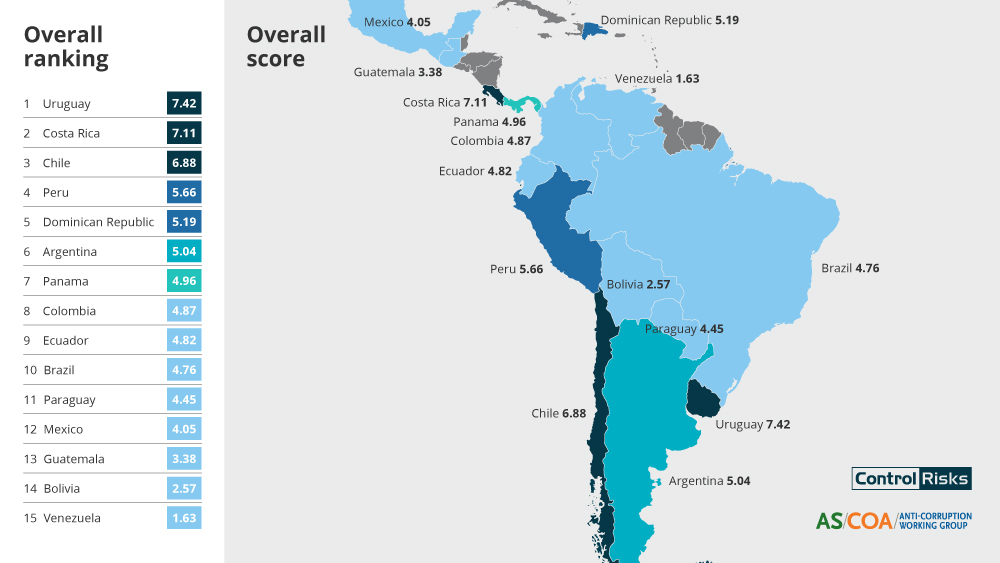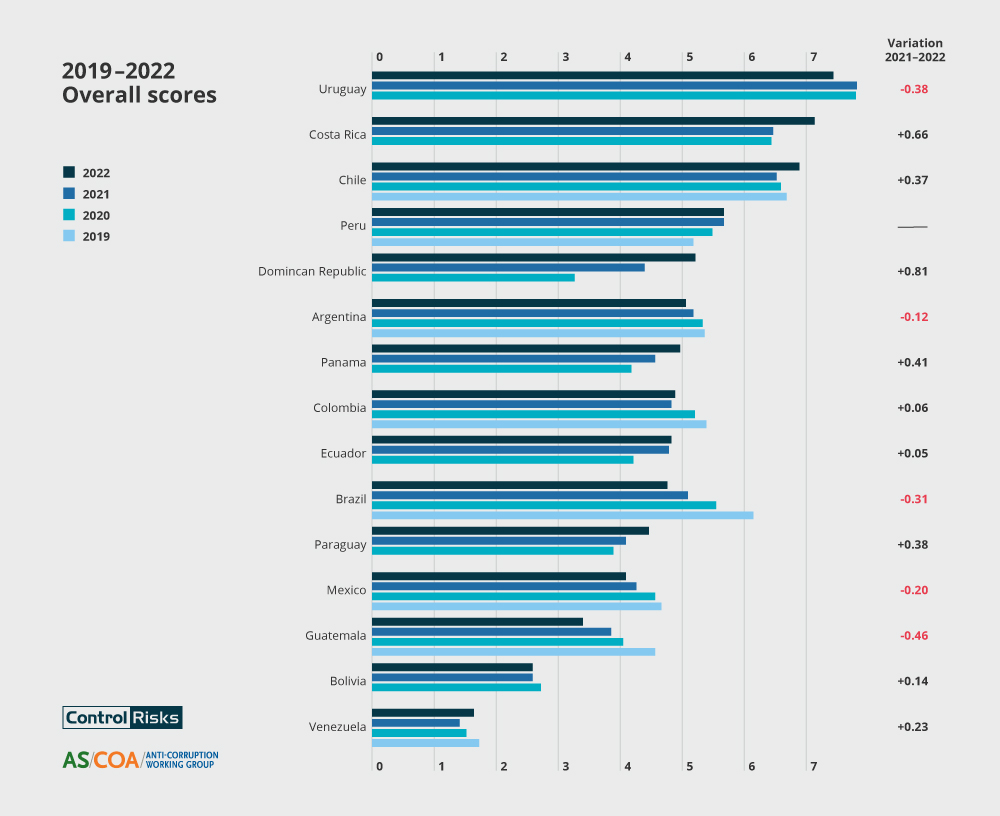 How can we help you?
Regional dynamics can be complex and at times inhospitable to foreign investment and operations. That's why clients turn to Control Risks for help gathering intelligence for market entry and acquisitions; managing complex security situations and acute reputational risks; for technical and investigative assistance with data-intensive cross-border regulatory matters and anti-competition cases; and a host of other issues.
Control Risks has deep roots and a profound on-the-ground presence in Latin America. We've been helping the world's leading companies understand and manage the risks and opportunities that come with operating in the region's complex markets since 1975, allowing us to hone our unique in-depth sources, alumni networks, knowledge of local landscapes and appreciation for our clients' country-specific business needs for decades.
Contact Us