Compared to neighboring Latin American countries like Mexico, nearshoring levels in the Caribbean are low. However, the region holds great potential to become a prominent nearshoring destination.
Despite some infrastructural and economic challenges, the unsaturated economies of the Caribbean make it attractive for foreign investment. Furthermore, governments in the region, such as Barbados and the Bahamas, actively seek to integrate foreign investment into their economic development, evident in their favorable corporate income tax (CIT) rates for foreign companies. Political stability and pro-business policies further contribute to a consistently favorable environment for foreign companies.
Additionally, the region offers low labor costs, benefiting construction and manufacturing industries seeking to relocate. While the talent pool in more advanced sectors like technology is limited, countries such as the Dominican Republic, Trinidad and Tobago, and Puerto Rico are making progress in developing their labor force.
Nearshoring is also likely to drive advances in other key sectors across multiple industries and jurisdictions in the Caribbean:
The Dominican Republic will continue growing as a major manufacturing hub: 57% of its exports are manufactured goods, and it has the second-highest container throughput in Latin America.
Puerto Rico will maintain its relevance as a pharmaceutical hub for US and Canadian companies, with approximately 80% of global companies in the sector having on-island investments.
Jamaica is likely to capitalize on its strategic geographic location along both the east-west and north-south trade routes to become a key logistics hub for international companies.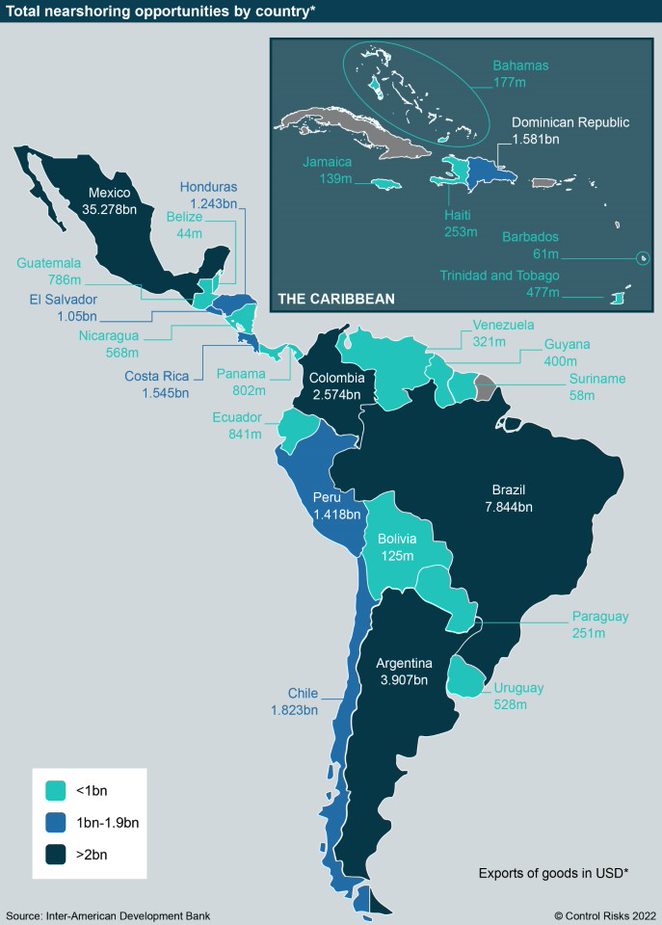 Renewable potential
The growing attention on nearshoring trends and the Caribbean's advantages in sustainable energy production present significant foreign investment opportunities. Governments are increasingly transitioning to renewable energy, primarily solar, with ambitious targets:
Barbados aims for 100% renewable energy by 2030.
The Dominican Republic targets 25% renewable energy consumption by 2025.
Trinidad and Tobago has set a goal of 30% renewable energy by 2030.
This transition will unfold gradually over the next five years and will lead to increased government tenders for foreign investment in renewable energy projects. This will most likely push governments to invest more in infrastructure, including energy, transport, and logistics, therefore improving the conditions for nearshoring. Additionally, the region's reduced reliance on oil and gas will enhance energy security.
Limitations
Despite the Caribbean's undeniable nearshoring potential, inherent challenges and deficiencies will likely continue to present operational risks to companies seeking to nearshore their operations.
The region's stagnant economic growth (with the notable exception of the Dominican Republic) and its over-reliance on tourism exposes it to external shocks – as shown by the COVID-19 pandemic. Despite the relative recovery, international companies in Caribbean jurisdictions remain susceptible to economic fluctuations. For instance, governments (apart from Trinidad and Tobago) rely heavily on unpredictable and costly oil imports.
While nearshoring can improve supply chain issues, it cannot fully resolve them. Insufficient infrastructure in the Caribbean, particularly in rural areas, hinders the establishment and maintenance of reliable supply chains, leading to delayed movement of goods and higher transport costs. The region's vulnerability to natural disasters and frequent damage to roads and utilities, further exacerbates these infrastructural risks.
Additionally, while there is a large labor pool in the Caribbean, there is a shortage of skilled workers, particularly in the underdeveloped tech sector, with companies struggling to find employees with the necessary technical skills, language proficiency and education.
You may also be interested in