Analysis
Opportunities and risks for the EU renewables sector in 2021
Opportunities and risks for the EU renewables sector in 2021
---
Data released by two think tanks on 25 January showed that in 2020 electricity generated by renewables in the EU (38%) for the first time overtook electricity generated by fossil fuels (34%). This note examines the key drivers in the bloc behind the expansion of the renewables sector, particularly wind and solar power, and potential risks for investors, developers and operators.
The EU's ambition to reduce greenhouse gas emissions by at least 55% by 2030 will continue to accelerate the growth of the renewable energy sector in all member states.
2021 will be another year of attractive investment opportunities for European energy investors, but investors will need to carefully navigate differences in the priorities of – and incentives offered by – individual European states.
Renewable energy sector investors, developers and operators will continue to face significant risks, even while investing in mature markets.
Upgrading the EU's renewable energy targets
The 25 January report from the Ember and Agora Energiewende think tanks followed a European Environment Agency (EEA) report earlier in January. The EEA report showed that power generated from renewable energy sources (RES) in the EU in 2019 had nearly doubled since 2005, with 34% of electricity generated from RES that year compared with 38% from fossil fuels.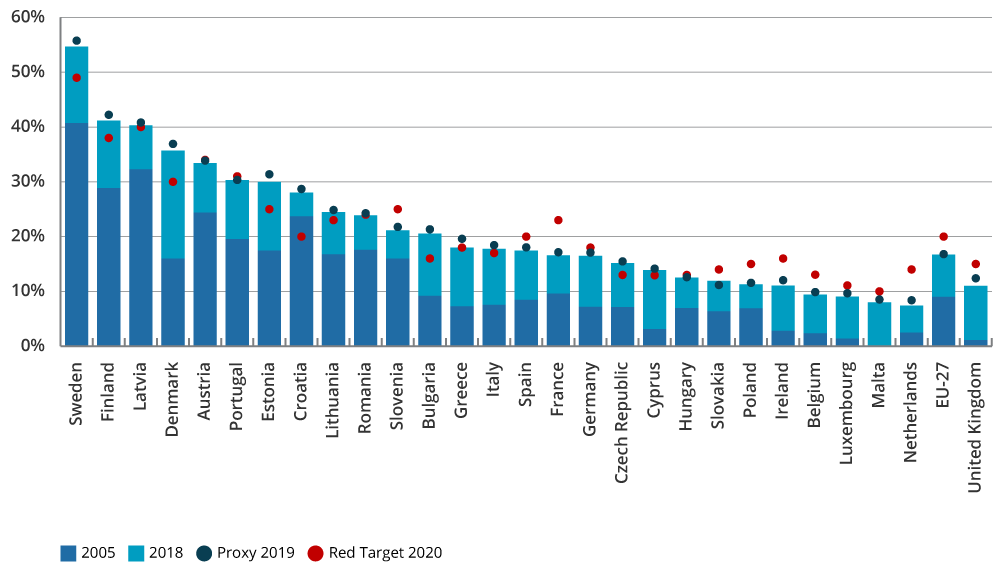 The growing share of renewables in the EU energy market underlines that the 27 EU member states will be among the most attractive renewable energy investment destinations in 2021. The EU has dramatically increased the pace of its climate change mitigation measures by setting the goal of becoming the first climate-neutral continent by 2050. As part of the European Green Deal, launched in 2019, the European Commission proposed to further increase the EU's climate ambitions by cutting greenhouse gas emissions by at least 55% by 2030. The expansion of the share of renewable energy in the bloc will be a key factor in ensuring that these targets are met.
Wind and solar to replace coal and oil
The EEA report noted that the EU's switch to renewable sources such as wind and solar since 2005 has resulted in a significant decrease in carbon emissions. The amount of power in the EU generated from wind and solar in 2019 for the first time surpassed that produced by coal.
In 2021, some EU countries are taking more aggressive steps to increase their share of renewables, particularly in electricity generation (RES-E). And according to analysis by S&P, at least 13GW of solar capacity and more than 30GW of onshore and offshore wind capacity are likely to come to auction in ten of the largest renewables markets on the continent next year.
This year, Spain is taking both legislative and market action to advance its renewable energy ambitions. The government is introducing climate change legislation that will include the goal of generating at least 70% of energy from clean sources, as well as tax changes to encourage consumers to install solar photovoltaic (solar PV) in domestic settings. The government is also committing to installing at least 3,000MW of wind and solar power capacity annually over the next decade and will hold its first solar PV energy installation tenders in four years. Governments in Germany, Italy, Portugal, and France will also be holding solar PV auctions this year. Meanwhile, Norway, Denmark, the Netherlands, and France will be holding auctions for offshore wind capacity.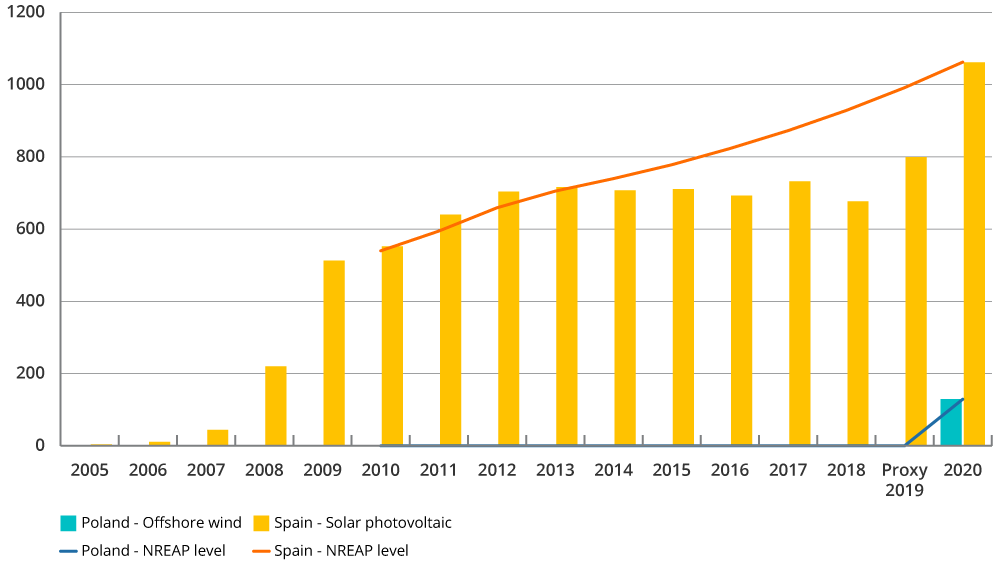 Market accelerators
In addition to EU ambitions and government initiatives, energy market trends and changing consumer behaviours are acting as powerful accelerators of renewable energy investment in Europe.
Demand for energy is expected to rise significantly as Europe will become the fastest growing region towards the end of 2021 following the deep COVID-induced economic slump in 2020, according to Oxford Economics. Moreover, the demand for renewable energy in the EU is projected to grow in the next decade, as EU stimulus funds help to accelerate structural reforms and energy transition.
In these uncertain economic times, subsidies from governments will be fewer and investors, developers, asset owners and banks will be increasingly required to embrace merchant risk in their new projects, whereby they assume most of the risks over electricity price fluctuations and weather conditions. Until 2019, most wind and solar PV projects were priced based on long-term government subsidies. Several subsidy-free projects, such as the solar PV and onshore projects in Spain and multiple offshore projects in Germany and the Netherlands, are currently under development. In this higher risk environment, and renewable energy players will likely adopt a more strategic, long-term risk-management approach to their investments.
Consumer behavioural changes are also playing a key role as an energy transition accelerator. More and more consumers are prioritising renewable sources for their household energy needs. The German Solar Association reported a 25% increase in consumer demand for solar rooftop installations in 2020 compared with 2019, as consumers embraced solar energy to provide light and heat for their homes and to charge electric vehicles.
Risks in European renewables
Compared with other sectors, the renewables sector has been a relatively lower-risk investment as it enjoyed government support, more sophisticated supply chains and lean business models. However, as the renewable sector transitions to more competitive market conditions and assumes a more dominant position within the European energy matrix, as well as becoming a large part of the EU's critical infrastructure, the risks are likely to increase alongside the considerable opportunities.
Changing regulatory landscape – Regulations are likely to continue to evolve as government oversight of the sector increases. Most investments will be subject to regulations not only at the EU level, but increasingly at the member state and the regional – or even local – level.
Activism and community relations – Renewable energy projects face a different type of activism than fossil fuel-based projects. While climate activists who oppose coal-, oil- and natural gas-based projects will support an increase in large onshore renewable ones, local communities will likely have competing concerns. Local residents are likely to object to disruption during construction and to noise and other impacts during the operational phase. The potential for such local activism must be assessed early and mitigated throughout the project cycle.
Energy security considerations – From ensuring uninterrupted supply during changeable or severe weather conditions to addressing cyber security threats, renewable energy companies are increasingly at the forefront of ensuring Europe's energy security and will be scrutinised as such by both policymakers and the public.
Supply chain risk – Many components for wind and solar technologies come from China, which is likely to be placed under more scrutiny by the EU, including investment screening, and may be subject to increased sanctions risks. Human rights risks associated with supply chains originating outside the EU have become more important for both governments and consumers.
Geopolitical risks – Foreign investors bidding for EU projects will be subject to a new foreign investment screening process (which differs significantly among member states). Although most of this scrutiny applies to China, emerging geopolitical trends will guide how these regulations evolve in relation to other foreign investors. Moreover, European renewable investors will have to navigate complex geopolitical challenges as they expand globally, or even in the EU's immediate neighbourhood – such as Ukraine and Turkey.
Corruption risks – As well as potential corruption risks during some government auctions and tenders, investors and operators will need to ensure that their local partner will not increase their reputational and compliance risks.
Security considerations – From crime to cyber disruption and terrorism, security considerations are as important for renewable investors in Europe as in less developed parts of the world. Renewables will increasingly be a target for cyber threat actors for both IP theft and because of their critical infrastructure role. Companies should follow industry best practice in organising their company security function and carry out regular threat assessments for all facilities and personnel.
Shortage of specialist risk analysis and mitigation resources – Many companies that have recently entered the renewables sector are much smaller than traditional large energy companies and have fewer in-house resources to undertake systematic analysis of existing and emerging risks and to develop effective mitigation strategies, particularly while they are rapidly expanding their international footprint.


Outlook
As the EU progresses towards its updated 2030 renewable energy targets, the bloc is set to deliver accelerated growth in solar and wind generation investments and capacities. At the same time, developers will be operating in a riskier business environment. Effective and comprehensive risk analysis, scenario planning and risk mitigation will be essential for renewable energy companies.
You may also be interested in