Green hydrogen is increasingly touted as the next big frontier for clean energy. We explore the potential for sub-Saharan Africa to exploit its extensive renewable energy capacity to emerge as the largest exporter of the fuel over the next two-to-three years.
South Africa will likely produce the region's first exports, with feasibility studies on a first project well under way with domestic hydrocarbons giant Sasol, and financial and technical support from Germany.
Underlining its interest in the region's ability to support its own clean energy goals, Germany committed the same support to a project in Namibia, which will likely follow South Africa into the global export market.
However, realising the region's full potential as a global green hydrogen export hub is unlikely to materialise in the short term, amid high costs and limited installed renewable energy capacity to create green hydrogen.
We expect oil and gas economies in the region will instead prioritise blue hydrogen production, particularly as this fuel type increasingly becomes regarded by importers as a bridge in the clean energy transition.
Cleanest of the clean
Green hydrogen is one of the cleanest forms of energy production. Hydrogen and oxygen molecules are separated through a process of electrolysis using electricity generated from solar and wind power, which means there are no emissions during its production. As hydrogen only produces water when heated, it is the only fuel type that does not pollute when heated. These two factors – in production and generation – form an almost perfect circle of sustainability. While its blue and grey counterparts similarly only generate water, they rely on natural gas rather than renewable energy to separate hydrogen and oxygen, contributing to greenhouse gas (GHG) emissions.

Green hydrogen is primarily used to power vehicles, but can also be used in homes. It is currently being explored as a replacement for fossil fuels in industrial-scale power generation.
First Movers
No country in the world has incorporated green hydrogen technology into its national power mix yet, though some have had sophisticated roadmaps towards this goal in place for several years. Some of these are already major hydrogen producers – such as Canada, China and Japan – looking to produce the fuel more sustainably. Others, like France, Germany and the Netherlands, are looking to base their power sectors on renewable energy and green hydrogen as they transition from thermal and nuclear power.

In sub-Saharan Africa, South Africa was the first country to begin developing a green hydrogen sector. In October 2021, it formalised an agreement with Sasol to undertake feasibility studies for the Boegoebaai green hydrogen project in Port Nolloth town (Northern Cape province). If successful, the project would kickstart development of the area into a green hydrogen hub.

The plans in Port Nolloth initially formed part of a broader initiative to align South Africa's national development plans with sustainable infrastructure development in the energy, water and transport sectors. The government has since launched its Hydrogen Society Roadmap (HRSM). Presented on 17 February, this outlines proposed projects and South Africa's aim to become a major exporter of the fuel to countries that have expressed an interest in receiving imports, including the EU – in particular Germany – as well as Japan, South Korea and China. The HRSM is also intended to support South Africa's decarbonisation efforts away from coal-fired power by 2050.

Namibia was the second. In November 2021, the government launched a tender for a renewable energy project in Tsau ǁKhaeb National Park (ǁKaras region), intended to drive production of green hydrogen. If successful, the USD 9.4bn project is estimated to have the capacity to produce 300,000 tons of fuel, positioning Namibia as a global green hydrogen export hub. The bid in January was awarded to joint venture HYPHEN, which includes UK property developer Nicholas Holdings Ltd and ENERTRAG South Africa, a subsidiary of a German renewable energy company.

Both countries are receiving financial and technical support from Germany, which seeks to become a world-leading clean hydrogen economy by 2045. South Africa in January announced the European power would provide an initial EUR 12.5m grant to support its feasibility studies in Port Nolloth, with a further EUR 27.5m to support development of a regulatory framework and technical capacities for related production in South Africa, and facilitate public and private investment in the sector. Meanwhile, Germany in August 2021 offered Namibia EUR 40m to boost its green hydrogen production in exchange for a guaranteed supply of the fuel at a preferential rate.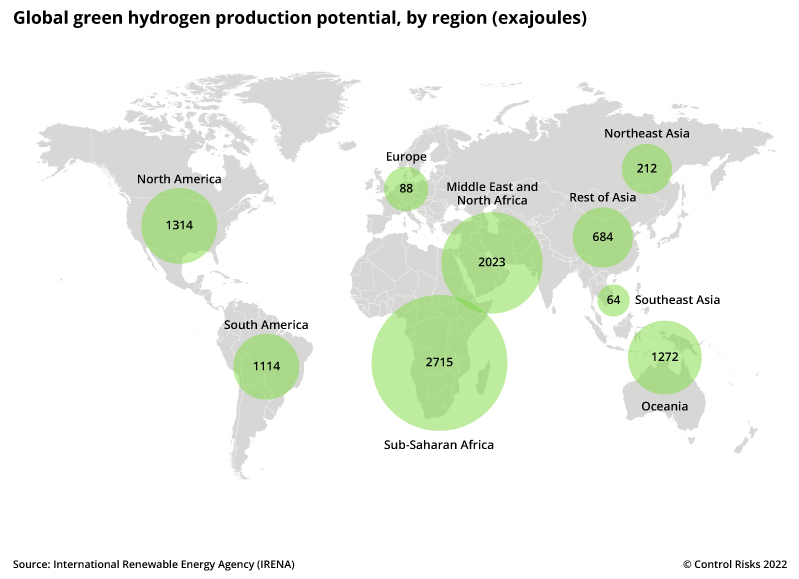 Common Denominator
Recognising the potential of the sector in the region, and how it can support its own net-zero goals, Germany has also identified major oil and gas producers Angola and Nigeria as potential green hydrogen production hubs. An official state visit in February 2020 by then-German chancellor Angela Merkel to Angola included discussion of its green hydrogen potential. State-owned oil giant Sonangol later confirmed it believed hydrogen was the next logical step for Angola amid its declining oil production and climate change targets, and in November 2021 signed a memorandum of understanding (MoU) with German construction and engineering firm Gauff Group to establish a green hydrogen plant in Angola.

Germany's Federal Foreign Office in November 2021 also opened a Hydrogen Office in Nigeria's capital Abuja, after the German government in 2020 promised technical support to assist the region's largest oil producer in adapting renewable energy technologies, including green hydrogen. It also expressed interest in the broader sub-region, including Benin, Burkina Faso, Cape Verde, Côte d'Ivoire, Gambia, Ghana, Mali, Senegal and Togo, under its broader climate change strategy in Africa. However, Nigeria's capacity for high export volumes means it is likely to be the largest recipient of support – and funding – down the line.

Angola and Nigeria will continue to receive exploration support from Germany, but are more likely to pursue a transitionary approach, whereby they develop blue hydrogen technology as a bridge for a transition away from fossil fuels towards green hydrogen. Blue hydrogen conducts the process of electrolysis using natural gas. While this makes it less environmentally friendly than its green counterpart, the commodity is already in plentiful supply. The EU is steadily recognising this approach as a first step towards a carbon neutral world by 2045.
Challenges
Producing green hydrogen – and specifically the electrolysis process – is costly. Recent years have seen the construction of ever larger electrolyser units, including the opening in February 2020 of the world's then-largest green hydrogen facility in Japan (10 MW), and an even larger one in April 2021 in Canada (20 MW). Although the aim is to increase manufacturing and supply chain capacity to lower costs, this is a long-term goal, and green hydrogen will not become a major fuel source worldwide. These costs will pose significant challenges for cash-strapped African governments.
Then there is the issue of sufficient renewable energy supply. Solar and wind are the preferred energy sources to produce green hydrogen, given their limited environmental impact and lower vulnerability to periods of drought and flooding compared with hydropower. However, despite the region's solar and wind potential, most countries have been slow to introduce it into their energy mix. In Angola and Nigeria, less than 1% of power generation is derived from renewable energy sources. In Namibia and South Africa, solar and wind make up 2% and 6.6% respectively of the power mix .
A lack of sector-specific regulation and revenue strains will also be key stumbling blocks. For all Angola's willingness to adopt hydrogen technology, it is yet to put forward a regulatory strategy for the development of the industry, which would still need to be supported by related legislation and the establishing of a dedicated company. The same is true for Nigeria. For investors to be willing participants, clear frameworks are a necessity. Meanwhile, building up expertise in a new industry is costly. Germany is yet to commit the same level of financial support it has for South Africa and Namibia.
Outlook
Over the next two-to-three years, South Africa and Namibia will make the most progress in developing their green hydrogen sectors, benefiting from financing and technical support from Germany. South Africa is likely to be first to produce exports. It has made more progress to date than Namibia, and benefits from a deep and liquid financial market able to raise domestic capital for infrastructure projects – the only country in sub-Saharan Africa able to do this. It is also likely to facilitate private sector involvement in the sector, which will offer opportunities in solar and wind projects as well as electrolysis units.
You may also be interested in