Minister of the Interior (caretaker) Bassam Mawlawi in mid-September announced a new security plan for northern Lebanon following an increase in unrest and crime. This note looks at how the economic crisis is affecting the security situation across the country.
Deteriorating socioeconomic conditions and a significant currency depreciation since late 2019 will continue to negatively impact the morale, capacity and capability of the security forces in the coming year.
Given the reduced capabilities of the security forces to tackle unrest and petty crime, local political parties or municipalities are likely to continue to implement their own security measures and expand these over the coming year.
National security forces will continue to prioritise combating serious criminal activity including terrorism and drugs-trafficking.
Foreign businesses will have to improve their security resilience plans to protect their facilities in Lebanon, particularly during periods of heightened unrest and uncertainty.
Economic crisis
Lebanon's economy is in a state of severe crisis. Over the past two years, the local currency, the Lebanese pound (LBP), has lost more than 95% of its value against the US dollar (USD). Since the late 1990s, the government has pegged the currency to the dollar at a value of about LBP 1,500 to USD 1. However, the currency has depreciated sharply since late 2019, and the black market exchange rate on 14 October was approximately LBP 39,000 to USD 1. The country will continue to face a severe economic crisis over the next year despite government plans to sharply cut the LBP-USD exchange that were announced on 28 September.
Impact of the crisis on the security forces
As is the situation with other public sector workers, the deteriorating socioeconomic conditions and currency breakdown since late 2019 have negatively impacted and will continue to negatively impact Lebanon's main government security providers, the Lebanese Armed Forces (LAF) and the Internal Security Forces (ISF). Given that security personnel are paid in the local currency, their purchasing power has significantly dropped as the value of the pound has fallen. This situation has reduced the morale, capability and capacity of the security forces.
Local news outlets have reported that hundreds of officers have deserted the forces largely due to insufficient salaries. A junior officer's monthly salary, worth around USD 800 or more prior to the crisis, is now equivalent to less than USD 100 per month. LAF and ISF commanders have complained about, among other things, their increasingly insufficient budget. In 2020, the LAF had to cut meat from its meals for active-duty personnel as a cost-saving measure. The agencies have also faced problems with some personnel being unable to reach their duty stations because of fuel shortages and a rise in transportation costs.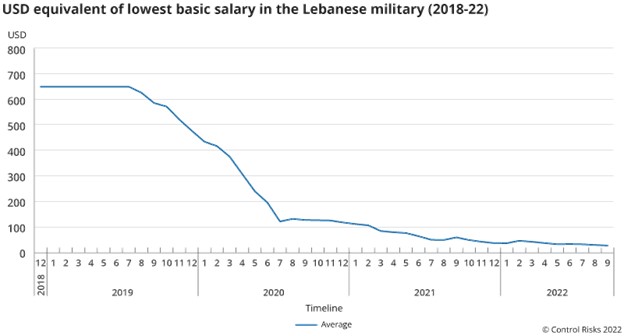 Shortages of equipment and spare parts will continue to affect the forces' capability to maintain security. LAF and ISF commands have indirectly complained about their inability to support and maintain their equipment. To raise money to support basic expenditure, the LAF has reportedly hired out its helicopters for tourist excursions.
The lack of funds has also led commanders to unofficially allow soldiers to serve two to three days in their duty station and take another job on the remaining working days to make a better living. Yet, this measure has reduced the forces' readiness and capacity to effectively cover and respond to the country's domestic security needs.
To reflect this situation, foreign donors have shifted their approach from supporting the reform and development of security forces to mainly sustaining these forces so they can perform their basic roles and maintain domestic security. Foreign donor assistance to the forces since late 2019 has increasingly included material assistance such as spare parts for equipment and essential goods donations such as food packages. Turkey in March donated more than 500 tons of food aid to be distributed among security personnel and Qatar in July 2021 announced 70 tons of food aid per month for a year to the LAF. Qatar on 30 June pledged a donation of USD 60m to the LAF to support the salaries of its personnel.
As the socioeconomic conditions are unlikely to improve over the coming year, security forces will continue to suffer from low morale, a lack of funds and equipment shortages, likely affecting their ability to carry out basic domestic policing, combat petty crime and secure the country at large.

Worsening security situation
Meanwhile, crime and unrest are rising – likely as a result of both the socioeconomic conditions and the reduced security force capabilities. Official crime statistics are currently not available on a consistent basis. However, according to local research centre Information International referring to government data, theft has increased by more than 260% in 2022 compared with the first ten months of 2019. During the same period, car robbery rose by a little bit over 210%.
The weakening of the forces has limited their ability to respond quickly to emergency situations, including clashes between armed groups in northern Lebanon. And some municipalities and political parties in areas like Keserwane and Matn (Mount Lebanon governorate) located north of the capital Beirut (Beirut governorate) are implementing local measures to address rising crime, with residents operating as watchpersons and alternating shifts. Such measures are likely to expand to include the erection of checkpoints, particularly at night. Similar measures already exist in the areas controlled by the Shia movement Hizbullah in the suburbs of the capital.
The use of local security arrangements is likely to increase and expand to other areas over the coming year in parallel with the reduced capacity of the security forces to carry out basic policing duties. Areas where there is limited or no law enforcement presence such as the Chouf area (Mount Lebanon governorate) are most likely to see local residents take responsibility for security measures.
More serious crimes will remain security force priority
While the ability of the security forces to address less serious crimes and small-scale unrest will be hindered, combatting drug trafficking and terrorism will remain a priority and the security forces' capabilities in these areas will remain stable. The international community has heavily supported the forces' counter-terrorism operations. Furthermore, security forces are keen to combat drugs-trafficking to maintain good relations with the Arab Gulf countries that are key destinations for drugs smuggled from Lebanon.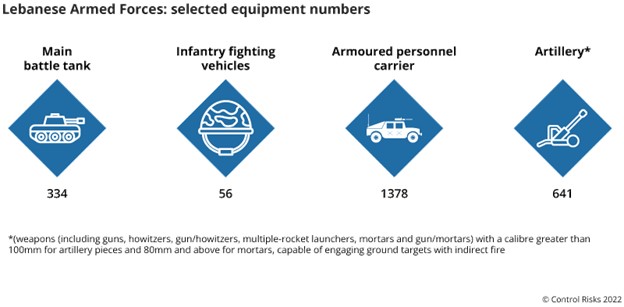 Business implications
Given the weak security conditions and the limited capacity of the security agencies, businesses will have to develop more resilient security plans. Criminals and violent demonstrators often target small businesses and government facilities, respectively, given the comparatively higher risks associated with targeting large organisations. However, large foreign businesses and their personnel are likely to face incidental security risks if they are located in the vicinity of violent activities such as theft or riots. Hence, these businesses will have to factor in multiple security incident scenarios. They will also have to rely less on government security agencies and more on private security providers. While many private providers are more likely to perform their duties effectively and in line with the companies' interests, businesses will have to ensure that the private security personnel are well trained and aware of their code of conduct to avoid any potential reputational risk associated with misconduct by a security contractor.
You may also be interested in