The Qatar boycott of 2017-21 might be over, but competition between Gulf Arab states is now hotting up again – this time in the sporting arena. The UAE, Qatar and Saudi Arabia have made several high-profile investments in international sports in recent months. We explore the drivers of and outlook for these strategies.
Amid rising global interest in international sport and associated broadcasting and merchandising opportunities, sovereign and sub-sovereign entities in Gulf Arab states will remain well placed to invest as they look to generate returns over the next decade.
Dual-pronged strategies of external and internal investment in sport and entertainment will continue to support the roll-out of substantial domestic economic diversification plans, especially in Saudi Arabia.
Nonetheless, reputational risks will continue to pose challenges for both Gulf investors and their foreign counterparts as engagement increases.
Frantic first half
Gulf Arab countries have inked several high-profile deals and acquisitions worldwide over the last year:
Basketball and hockey: The Qatar Investment Authority (QIA) in June announced its purchase of a minority stake in the US owner of several US basketball and hockey teams.
Golf: The PGA Tour and LIV Golf, backed by Saudi Arabia's sovereign wealth fund the Public Investment Fund (PIF), in June announced a merger.
Football (soccer): The PIF has taken a majority share in Saudi Arabia's four leading domestic clubs – Al Ittihad, Al Nassr, Al Hilal and al Ahli. This has fuelled these clubs' acquisition of a number of high-profile international players, given that no spending limits apply in the kingdom.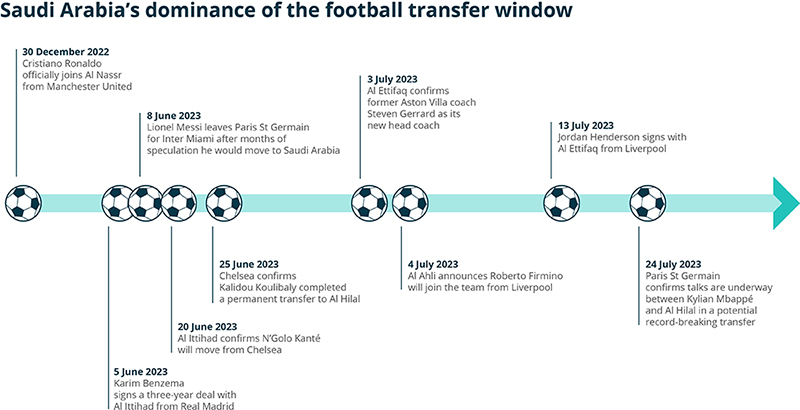 This comes as governments across the Gulf have bought up stakes in various European football clubs in recent years, showcased recently by the victory of UK-based Manchester City, owned by the Abu Dhabi (UAE) royal family, in the 2022-23 European Champions League. Meanwhile, footballer Lionel Messi has signed a contract with Saudi Arabia's tourist board to promote tourism in the kingdom.
Tennis: The Association of Tennis Professionals (ATP) Tour is reportedly in talks with the PIF to invest in projects including expanding the event calendar to new markets.
Formula One: Sponsorship deals were signed in March 2020 with Saudi national oil company Saudi Aramco and in February 2022 with Qatari flag carrier Qatar Airways.
Cricket: Saudi Aramco in October 2022 also agreed a global partnership with the International Cricket Council, under which it will sponsor all major cricket events until the end of 2023, including the ICC Men's Cricket World Cup, due to be held in India in October and November.
These developments are not just deepening the familiarity of sports fans with the Gulf region, particularly Saudi Arabia, but disrupting the sports themselves. The vast financial incentives on offer – witness the huge transfer fees for prominent football players and potential increased prize money in professional golf tournaments – will reshape the competitive field for teams and sporting governing bodies able and willing to compete.
Investment priorities
Gulf Arab sovereign and sub-sovereign entities will continue to pursue an investment strategy focused on acquiring sports teams, deepening ties with governing bodies and agreeing major sponsorship deals. Such investments have the potential to generate significant returns amid rising competition from private equity companies for deals in competitive leagues and media rights. They also bring international attention –exactly what the Gulf Arab states want as they look to generate revenue and improve their international reputation. Saudi Arabia in particular is seizing this chance to change the way the world sees it, as it is re-establishing itself on the international stage after a period of isolation following the murder of Jamal Khashoggi.
Domestic focus
The strategy also serves an array of domestic purposes. Boosting spending on entertainment and sports-related events at home is key to the "Vision 2030" national economic diversification plans in both Saudi Arabia and Qatar, which aim to develop new sectors and provide new non-oil government revenue streams. Socially, governments wish to improve public health by motivating the adoption of healthier lifestyles and to facilitate a sense of unity among different parts of society.
These goals can be seen in Qatar's hosting of the 2022 FIFA football World Cup in late 2022. Doha made large-scale investments in infrastructure projects ahead of the tournament: developing a metro rail network, investing in real-estate development and constructing new stadiums. It has since seen sustained economic benefits, with tourist arrivals of 1.5m between January and April more than double those recorded in the same period in the previous year, according to our strategic partner Oxford Economics. And the new infrastructure will continue to contribute to the economy over the following decade.
Meanwhile, Saudi Arabia's sporting investments in recent months underline its commitment to boost its domestic sports sector, both to encourage spending by Saudis on events and merchandise and to give the country's fledgling non-religious tourism sector a boost. Struck by Doha's success in 2022, Riyadh is working on developing a bid for the 2030 FIFA World Cup with Egypt and Greece, underpinned by the extensive infrastructure projects (from roads to stadiums and new Formula One tracks) already underway as part of Vision 2030.
Shifting the narrative
Many fans are keen to see what new opportunities these investments will bring. Nonetheless, this increased attention will bring with it reputational and integrity challenges for foreign businesses operating in these countries, especially in the sports sector, given the political, social and labour rights risks often associated – particularly in Western markets – with investments in these countries. These risks will ebb and flow with each new event and announcement.
Increased external exposure will also bring new challenges for Gulf Arab governments. The considerable international scrutiny and criticism of labour rights in the run-up to the 2022 FIFA World Cup in Doha will be repeated elsewhere – while investments in Europe and the US will provide new targets for scrutiny from Western human and social rights organisations in particular.
You may also be interested in