Analysis
Russia's anti-monopoly law - a primary consideration for international pharmaceutical companies
Due Diligence
Investigation Services
Global
Russia's anti-monopoly law - a primary consideration for international pharmaceutical companies
---
Martina Rozumberkova, Principal and Alina Ryzhonkova, Associate Consultant
When conducting business in Russia, multinational companies frequently focus on ensuring compliance with key anti-corruption laws such as the Foreign Corrupt Practices Act and the UK Bribery Act and, to some extent, local anti-corruption laws and regulations—at the same time, these companies often overlook some of the more nuanced Russian laws and regulations.
The Russian anti-monopoly law, Federal Law 135, requires fair competition and covers a broad range of activities, including limiting natural monopolies, prohibiting uncompetitive behavior in advertising and regulating state tenders. State tenders are particularly relevant to pharmaceutical companies that sell their products to state healthcare systems through third-party distributors. As part of its fight against uncompetitive agreements and cartels, the Russian Federal Antimonopoly Service ("FAS") has focused on enforcing provisions related to tenders. In contrast to local anti-corruption laws, which have primarily been used against domestic public officials and small- to medium-size Russian companies, the anti-monopoly law has been heavily enforced among pharmaceutical companies, the second largest group—after the construction industry—investigated and prosecuted by the FAS.
Table 1: FAS actions for the period January 2018 – December 2018 as related to the enforcement of Anti-monopoly laws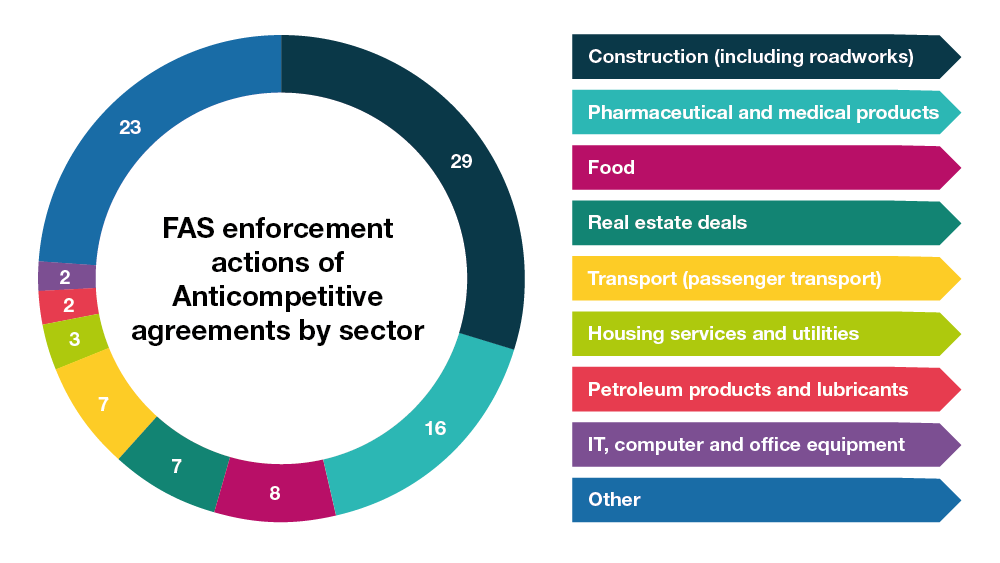 Penalties for violations are strict, such as inclusion on a public register for three years and levying of significant fines. If an agreement is deemed to have affected tender prices, fines can reach half the cost of the tender. In 2019, the FAS issued approximately USD 1.6 million in fines to four pharmaceutical distributors.
The number of cartel cases in Russia has been rising steadily from year to year and has targeted some of the biggest pharmaceutical distributors in Russia. Many of these distributors (such as R-Pharm, Euroservice, BSS, Katren and Protek) have been and continue to be distributors for multinational pharmaceutical companies.
While most international pharmaceutical companies do not participate in state tenders directly, they may come under investigation by the FAS due to wrongdoing by their third-party distributors, an important factor to consider when engaging with third parties in Russia. In 2018, R-Pharm, one of Russia's leading pharmaceutical distributors, was investigated in two separate anti-monopoly cases and found guilty in one. The case in which R-Pharm was not found guilty also involved a US pharmaceutical company with operations in Russia.
International pharmaceutical companies operating in Russia have also been investigated for anti-monopoly violations including pricing and advertising infringements. In 2018, the FAS found that a multinational pharmaceutical company's product prices were higher in Russia than Europe and ordered the company to adjust its pricing strategy. The FAS also threatened to allow companies in Russia to manufacture the products without technology transfer or licensing agreements. The company reportedly changed its production plans and lowered prices in accordance with the request from the FAS.
The FAS has also taken steps to formalize the need for preventative measures. An amendment to the anti-monopoly law passed in April 2020 introduced the concept of an anti-monopoly compliance framework and set out basic elements of an anti-monopoly compliance program. While the program is currently voluntary, it is an important indicator of where anti-monopoly compliance in Russia is heading.
It is an implied benefit that companies with an effective anti-monopoly compliance program found to be in violation of said laws are likely to receive reduced fines. Multinational pharmaceutical companies would benefit from implementing these programs.
Per the amendment, an anti-monopoly compliance program should include but not be limited to:
Requirements for evaluating the risks of violating anti-monopoly laws
Measures to lower the risk of violating anti-monopoly laws
Measures to exercise control over the internal anti-monopoly compliance program
Companies can send completed or draft compliance systems and policies to the FAS to establish their compliance. The FAS is meant to review these policies within 30 days and provide an assessment to the company.
As the pharmaceutical sector remains a focus for the FAS, multinational companies should pay particular attention to their anti-monopoly practices and consider implementing elements of an anti-monopoly compliance program to safeguard against possible violations. Multinational pharmaceutical companies should heed their own internal policies, procedures and internal controls as well as those of their distributors—especially those that participate in state tenders, an area of high risk. This additional attention should begin when the company conducts due diligence on a Russian distributor and be maintained throughout the relationship.
You might also be interested in