Martina Rozumberkova is a Principal within Control Risks' Compliance, Forensics and Intelligence practice in the Americas. She has over 17 years of experience assisting companies with fraud and forensic investigations as well as reviews, assessments, development and implementation of global compliance programs, and internal controls. She advises companies conducting investigations involving the FCPA and helps address regulatory actions with focused expertise assisting the life science industry. She has also led teams conducting regulatory mandated monitorships.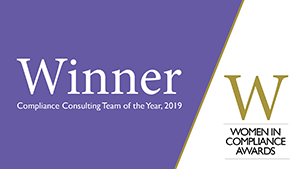 In 2019, Control Risks' Regulatory Risks and Investigations Team in the Americas, which Martina is a part of, was named Compliance Consulting Team of the Year at the C5 Women in Compliance Awards.
Recent tasks that Martina has worked on include:
Collaborated with a life science client to conduct assessments of risk, internal controls and methodologies as well as corporate investigation methodologies. Delivered recommendations for enhancements and remediation, ultimately . supporting the execution of those plans.
Collaborated with various functional areas of a Fortune 500 company to develop, implement and monitor global compliance programs (including policies, procedures and methodologies covering anti-fraud controls, FCPA, U.K. Bribery Act, ethics, labor laws, data security, record retention and other US laws and regulations).
Conducted numerous fraud and internal investigations for clients operating in the life science, manufacturing, telecommunication and software industries.
Managed periodic and ad hoc compliance reviews, including sample testing, interviews, data analytics and document reviews. Prepared remediation and action plans to address deficiencies and weaknesses for a financial institution client.

Prior to joining Control Risks, she led the Commercial Monitoring team at Sanofi Genzyme, where she developed and supervised internal testing programs and methodologies, assessed gaps, prepared remediation plans to enhance internal controls to comply with US laws and regulations, and conducted internal investigations. She also oversaw Sanofi Genzyme's efforts to comply with its Corporate Integrity Agreement with the Inspector General's Office of the US Department of Health and Human Services.
Martina is a Certified Anti-Money Laundering Specialist and a Certified Fraud Examiner. She speaks Spanish, Czech, Russian and French.