Analysis
Pakistan-Saudi Arabia relations down, but not out
Asia Pacific
Investor Services
Pakistan-Saudi Arabia relations down, but not out
---
Arsla Jawaid, Analyst
Recent diplomatic tensions between Islamabad and Riyadh regarding the Kashmir issue will continue to be a sticking point, but a genuine break in the countries' strategic relationship is unlikely.
Pakistan's government will temper its criticism of Saudi Arabia's unwillingness to support Pakistan's position on Kashmir despite Islamabad's ongoing requests to the Organisation of Islamic Countries (OIC) for support.
Although Islamabad will turn to Beijing and other Muslim countries in attempts to diversify its foreign relations, it will continue to prioritise strong military and diplomatic ties with Riyadh.
Pakistan's military leadership will lead on military ties, which will dominate bilateral relations over the coming years.
The snag in relations is unlikely to lead to a rupture in military, political and economic ties. Pakistan will continue to rely on Saudi Arabia for financial assistance and remittances.

Out of character?
On 5 August, the one-year anniversary of India's revocation of Kashmir's political status, Pakistan's Foreign Minister Shah Mahmood Qureshi sharply criticised Riyadh's unwillingness to support Pakistan on Kashmir and warned that Islamabad would turn to other Muslim countries for support. Pakistan has been requesting a special meeting of the OIC – an organisation of 57 Muslim-majority countries led by Saudi Arabia – regarding Kashmir but has faced resistance from Saudi Arabia. Despite this snub, Riyadh will continue to wield influence over Islamabad's foreign policy. In December 2019, Pakistani Prime Minister Imran Khan abruptly withdrew from a Malaysia-sponsored, high-level Islamic summit due to – as he later admitted – Saudi Arabia's concern that the summit would undermine the OIC and project the interests of Muslim-majority countries with which Saudi Arabia is at odds (such as Qatar and Turkey). The Pakistani public has criticised growing Saudi interference in Pakistan's foreign policy.
Islamabad has been trying to shore up international support for its stance on Kashmir since August 2019, and Qureshi's rare assertiveness is indicative of growing Pakistani frustration with perceived Saudi inaction. Qureshi's statement likely referred to support from Turkey, Qatar, Iran and Malaysia – all of which have publicly supported Pakistan's position. Although Qureshi's statement has been viewed by some political commentators as a diplomatic faux pas, it was likely made with the military's implicit approval. Nonetheless, Pakistan's assertive move seems to have backfired.
Pakistan shares strong military ties with the kingdom and relies on it for financial assistance – a reality that will force Islamabad to carefully manage its future diplomatic statements. Although the military may convey its frustration with the kingdom's increasing control over Pakistan's foreign policy behind closed doors, the government is unlikely to issue further statements that could ostensibly challenge the kingdom's significant influence over the Muslim world or its foreign policy ambitions. Islamabad's efforts to raise the Kashmir issue with the OIC will continue, but diplomatic spats are unlikely over the coming months.
Military ties over market share
In February 2019, Saudi Crown Prince Mohammed bin Salman bin Abd al-Aziz Al Saud (known as MbS) visited Pakistan and signed investment deals (worth USD 20bn). These included building an oil refinery and a petrochemical complex in Gwadar port city (Balochistan province), the potential acquisition of two liquified natural gas-powered power plants and nearly USD 4bn in alternative energy and mining deals. However, immediately following Qureshi's statement, Riyadh recalled a USD 1bn interest-free loan (part of a USD 3bn loan) it had extended to Islamabad in November 2018 to help stabilise Pakistan's balance of payments deficit. The kingdom had previously refused to renew a USD 3.2bn oil credit facility after it expired in May. Pakistan promptly returned the USD 1bn loan to the kingdom after borrowing from China.
Concerned about India's growing economic ambitions with Pakistan's traditional allies, Islamabad will seek to maintain strong military and diplomatic ties with the kingdom due to strengthening economic ties between Saudi Arabia and India. India-Saudi Arabia bilateral trade stands at approximately more than USD 30bn annually; Pakistan-Saudi Arabia trade recorded USD 1.7bn in 2019 (74% consisted of Pakistan's oil imports). Pakistan's economy heavily relies on remittances from an estimated 2.5m expatriate workers in Saudi Arabia. According to Pakistan's central bank's data, Pakistani workers in July sent back an estimated USD 821m in remittances – accounting for 30% of Pakistan's remittances. Pakistan recognises that it does not offer as big a market as India and will therefore continue to rely on and invest heavily in its military relationship with Riyadh to ensure its relevance to the kingdom.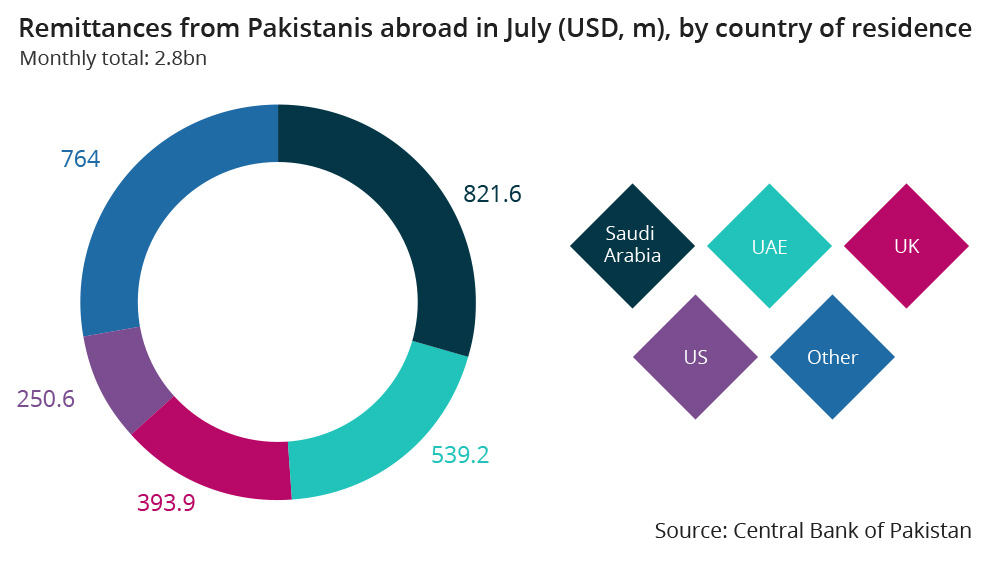 General direction
Since 1967, Pakistan has routinely provided military and air force trainers to the kingdom. It has also provided troops during regional conflicts – approximately 15,000 Pakistani troops were deployed to Saudi Arabia during the Iran-Iraq War (1980-88). The Saudis also supported Pakistan's nuclear programme, which began in 1999 – the Pakistani establishment believes that nuclear power makes Islamabad militarily valuable to Riyadh, thereby deterring the kingdom from rupturing bilateral ties. Many in Pakistan also believe that the kingdom partially funded the programme. Although Saudi Arabia harbours ambitions to develop a civilian nuclear power programme, it is not clear whether it will also pursue a weapons programme. Should Riyadh pursue nuclear weapons, the value of the military partnership would significantly diminish.
The Pakistani military has routinely stepped in to balance strategic bilateral relations. In 2015, Pakistan's parliament (with the military's implicit approval) refused to send troops to Yemen, creating a rift in the bilateral relationship. Former chief of army staff Raheel Sharif (2013-16) visited Riyadh in April 2015 in an attempt to limit the damage caused by Pakistan's refusal and in 2017 assumed leadership of the Saudi-led Islamic Military Counter Terrorism Coalition. Islamabad saw this as an opportunity to make amends with Riyadh and reiterate its commitment to the strategic military relationship while maintaining its neutrality in the Yemen conflict.
Pakistan's military leadership will lead on consolidating military ties with the kingdom, as Islamabad seeks to de-escalate bilateral tensions. On 17 August, days after Qureshi's statement, chief of army staff General Qamar Javed Bajwa visited Saudi Arabia in what the military downplayed as a "routine" visit to discuss "military-to-military" matters. However, the timing of the visit, which was snubbed by MbS, appeared to be an attempt at damage control. The military will continue to lead Pakistan's strategic military relations with Saudi Arabia, China and the US. Unlike previous administrations, the civil-military relationship will remain stable. This is indicative of the government's increasing weakness and reliance on the military to retain power.
The current diplomatic spat will likely irritate rather than disrupt relations. Pakistan will routinely promote Saudi Arabia's role in the Muslim world despite ongoing diplomatic tensions regarding Kashmir. Islamabad believes that Riyadh has an interest in maintaining the relationship, as it can project its influence onto the world's fifth largest population (which is mostly Sunni). Pakistan will allow the kingdom to do so while simultaneously ensuring a strong relationship with Iran due to Pakistan's large Shia minority.
Pakistan will seek to position itself as a potential mediator between Iran and the Saudi Arabia, as regional tensions deepen despite Islamabad's rejected efforts. The military will seek to strengthen ties in the coming years to ensure a strong partnership with the kingdom to act as a bulwark against growing India-Saudi Arabia economic ties. Despite this diplomatic bump in the road, the Pakistan-Saudi Arabia relationship is unlikely to significantly worsen in the near future.
You may also be interested in