COVID-19 brings risks for Middle East economies
COVID-19 brings new risks and heightens existing ones for Middle East economies
---
The recent spread of coronavirus disease 2019 (COVID-19) to eight countries in the Middle East – and the border closures and regulatory responses this has triggered – will heighten existing challenges for national economies.

Four key risk points
1. COVID-19 will have a broad economic impact on the region because Middle Eastern countries have enacted travel bans and border closures that are turning away people and goods from China and restricting intra-regional travel.
2. Iran and Iraq will be particularly affected by the outbreak because their containment capabilities and health service provision are inadequate, their governance shaky and economies fragile.
3. In addition to their negative effect on regional trade, aviation and oil revenue, COVID-19-related restrictions will decimate revenues from religious tourism and could threaten food security.
4. Affected countries will have to manage their containment measures to avoid prompting a deterioration in diplomatic relations with China, as their economies rely on the latter's oil demand and role in regional oil production; investment; and tourists.

Outbreak
On January 30, the World Health Organization (WHO) designated COVID-19 a "Public Health Emergency of International Concern". The virus has killed more than 2,700 people (almost all in mainland China) and infected more than 78,000 worldwide since 31 December.
Reported COVID-19 cases within China are now being outpaced by cases elsewhere in the world, the WHO said on 26 February, and contagion in the Middle East is increasing. The authorities in Afghanistan, Algeria, Bahrain, Egypt, Iraq, Iran, Kuwait, Oman and the UAE have all confirmed at least one case. Iran is the main locus of regional concern, with 19 officially confirmed and 139 confirmed infections, with a conflicting report of a toll of more than 50 deaths, suggesting much larger contagion. The virus appears to have infiltrated pilgrimage networks between Iran and Iraq, with Iran's shrine city of Qom being the epicentre of the outbreak. A large proportion of regional cases declared outside of Iran affect Iranians or local nationals returning from Iran.
So far, the Middle East has seen only a total 198 reported infections and the officially confirmed 19 deaths, but regional countries' response – growing travel restrictions, border closures and quarantines – is already severely hampering national economies.
Reported cases of COVID-19 in the Gulf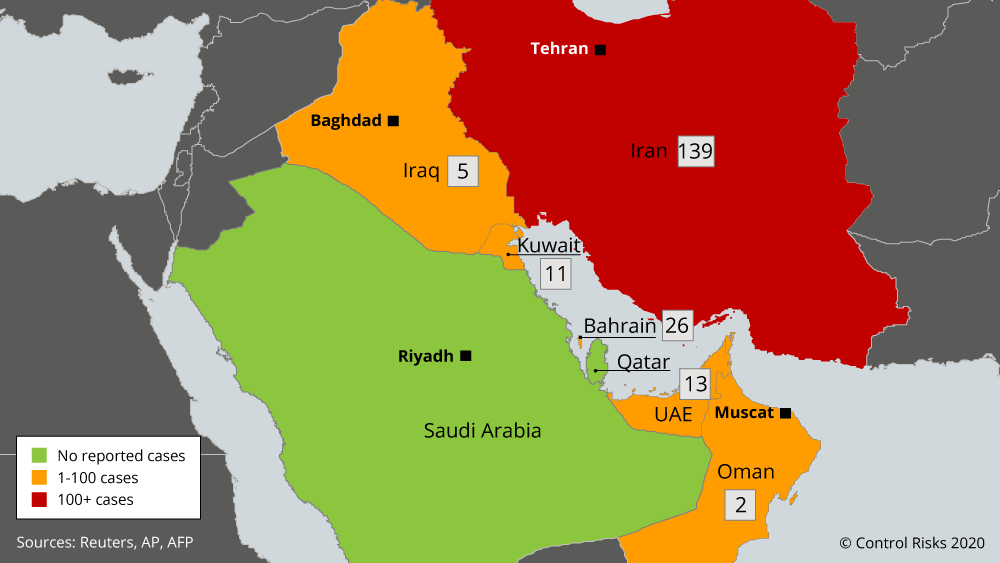 Iran at the centre
Iran's death toll from COVID-19 is the highest outside mainland China. With its economy already hit by US sanctions, the Islamic republic now finds itself all but isolated. So far, Iraq, Kuwait, Oman, Qatar, Saudi Arabia, the UAE, Turkey, Pakistan, Afghanistan and Armenia have all suspended flights and cross-border travel to and from Iran, leaving Azerbaijan as the country's sole exit route. Moreover, the cancellation of all flights to and from the UAE for at least a week will significantly disrupt Iranian international business operations, for which Dubai is the main hub (around 500,000 Iranians reside in the UAE).
Tehran's ability to effectively handle the crisis is constrained by a lack of investment into its public health crisis response capabilities, which is compounded by the damage US sanctions are having on its health sector. Domestic confidence in the government is low, and the international community is concerned about Tehran's inability to contain the threat and the reliability of its figures.
Iraq is vulnerable
Iraq, roiled by political crisis, under-resourced and reliant on oil export revenue, will also struggle. Already fragile food security in the country could be jeopardised if both the Turkish and Iranian borders are closed. Medically underserved or overrun parts of China have recorded substantially higher COVID-19-related mortality rates.
This makes Iraq, which massively underinvests in its healthcare sector, vulnerable to the disease's spread and abrupt travel bans and border closures. Iraq and neighbouring Syria host millions of refugees and internally displaced people, who, if infected, would overwhelm the healthcare system and be hard to track.
Baghdad – which barred entry to Chinese nationals on 31 January – is particularly exposed to a prolonged COVID-19 crisis because of China's crucial role in Iraq's oil sector. About half of Iraqi oil production comes from fields operated by Chinese oil companies or Chinese minority partners. Chinese drilling companies control large swathes of Iraq's drilling and oilfield services markets. Oil output has not yet been hit, but this could change if Chinese oil engineer rotations cease.
Religious tourism
The region's major religious sites, including Mecca and Medina (Saudi Arabia), Najaf and Karbala (Iraq), and Qom and Mashhad (Iran), have been closed. Religious tourism in the region is usually worth a cumulative USD 25bn a year (USD 12bn for Saudi Arabia; USD 8bn for Iran; and USD 5bn for Iraq) and employs several million in the hospitality sector. These revenues and employment are now at risk following border closures, entry bans for Iranians, religious tourist visa suspensions and shrine closures.
Challenges for the Gulf
Although most Gulf Arab countries have the financial means to deal with the epidemic, a continued surge in regional cases will increase the risk of intra-regional travel restriction being further tightened. Such barriers would cause major disruption to regional tourism and the strategically significant aviation industry, as well as business operations and logistics.
In addition to hampering intra-Arab Gulf trade and movement of people, a growing number of COVID-19 cases and a protracted global health crisis significantly hit operations in the region's most outward-looking economies: the UAE and Qatar. Both countries will be hosting international events in the coming months, with the Qatar Airways' International Cup (a football tournament) to be held in March and Expo 2020 in Dubai as of October. If the crisis intensifies, crisis prevention health measures will likely hamper the organisation of any large-scale events. For instance, Kuwait on 25 February suspended all celebrations for its national day over COVID-19 transmission concerns.
The UAE and Qatar are also home to the region's largest long-haul flight carriers: Emirates and Etihad (UAE) and Qatar Airways. The closure of aerial routes to select international destinations by Qatari and Emirati authorities will cause significant operational disruption for these countries' airlines in particular and aviation industries more broadly.
Oil outlook
The suppression of oil demand stemming from the outbreak is increasingly likely to persist and constitute an economic shock for Saudi Arabia, despite the kingdom's lower reliance on Chinese demand compared to Iraq. As a result, Riyadh will struggle to preserve the four year-long Organization of the Petroleum Exporting Countries (OPEC) alliance with Russia (known as OPEC+) over production cuts needed to prevent further oil price drops. With or without Russia, a prolonged COVID-19 crisis would lock OPEC more deeply into a spiral of production cuts that increasingly fail to bolster oil prices. This would particularly affect Saudi Arabia, the UAE, Kuwait and eventually Iraq, which will soon have to do more to meet its OPEC production quotas.
Strains with China
Further east, Beijing is sensitive to prejudicial attitudes arising from the COVID-19 outbreak. The longer the travel bans implemented against it, the greater the potential diplomatic fallout. Middle Eastern countries will continue to seek to protect their populations from COVID-19 by maintaining travel restrictions, while simultaneously liaising with China to boost Chinese investment and tourism over the coming years. Travel restrictions will unlikely significantly degrade foreign relations between China and Middle Eastern countries, though Beijing may try to push the latter to rapidly ease their restrictions once it deems the threat contained.
You may also be interested in