Analysis
All eyes on the road – protecting supply chains against a rise in cargo theft
All eyes on the road – protecting supply chains against a rise in cargo theft
---

The Transported Asset Protection Association (TAPA), a grouping of security professionals and related business partners, recorded more than 3,600 cases of cargo theft across key European countries between January 2018 and June 2019, representing a major threat to supply chain security in the region.


Despite an increase on the EU level in dedicated resources to combat cargo theft, these are unlikely to fully mitigate the threat, with cargo transported by road remaining the most vulnerable.
A lack of secured parking spaces, combined with regulations limiting the hours that drivers can operate, will continue to drive the threat of cargo theft across Western Europe.
While there has been an increase in cases involving theft from moving trucks, the degree of sophistication required means that non-violent intrusion into vehicles at unsecured parking areas will likely remain criminals' preferred modus operandi.
Businesses should conduct due diligence during recruitment as well as on providers and subcontractors. Stringent security measures should be implemented to mitigate the threat to the supply chain.
A threat that is here to stay
Cargo theft is not a new phenomenon on European roads. However, the number of cargo theft cases recorded across Europe and the broader Europe, Middle East and Africa (EMEA) region – as well as the cost of lost goods – have starkly increased over the past years. Furthermore, many incidents continue to go unreported.
Number of recorded incidents, EMEA region, November 2014 – 2018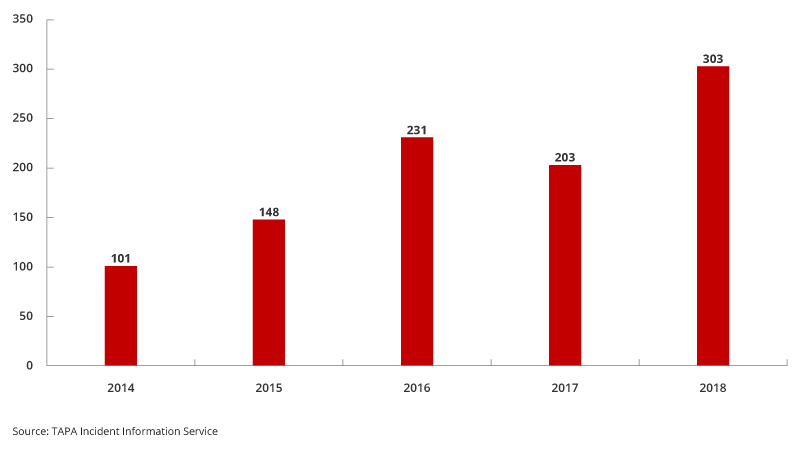 Cargo theft incidents recorded per month, January 2018 – June 2019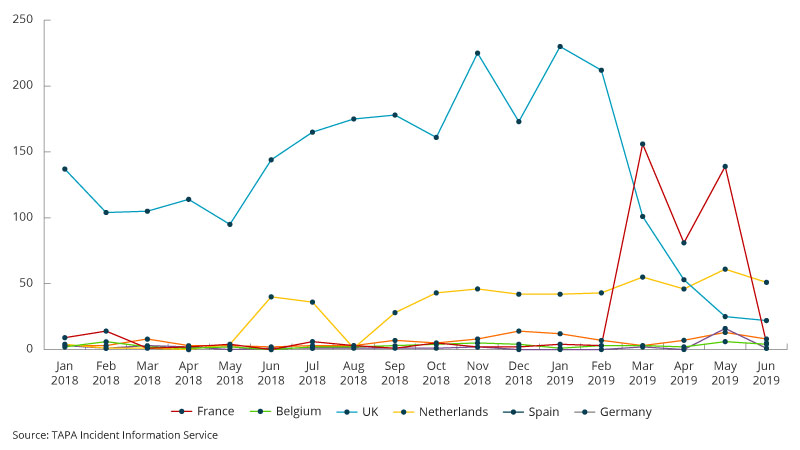 According to a June report published jointly by UK standards body the British Standards Institution (BSI) and transport and logistics insurer TT Club, the median theft value in Europe reached EUR 53,585 in 2018 – surpassed only by South America (EUR 68,922). As cargo thefts threaten delays that can disrupt supply chains, including on freight carriers, senders and recipients of the goods, the total damage often significantly surpasses the financial value of stolen goods.
The UK is the EU country most affected by the phenomenon, with organised criminal groups increasingly targeting cargo at motorway service areas across the country.
Top 5 European countries affected by cargo theft, January 2018 – June 2019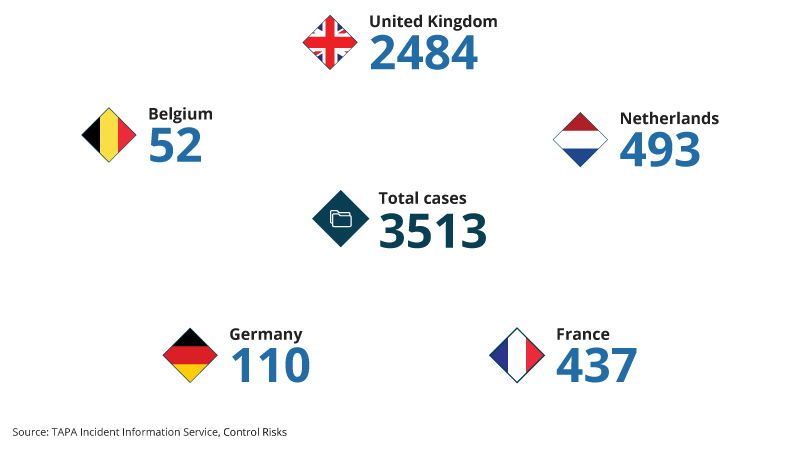 While cargo theft can occur at any stage of the supply chain, criminal actors will continue to focus on goods in transit, with the road haulage sector more vulnerable than rail or maritime transport. According to TAPA, more than 95% of all incidents in the EMEA region recorded in 2018 involved trucks, of which 60% were parked in unsecured parking spaces, including motorway service areas and industrial estates. Most incidents occurred during the night and between Monday and Thursday. Total losses in the EMEA region for that year exceeded EUR 153m and affected a variety of sectors.
Top 10 product categories affected by cargo theft, EMEA region, January 2018-June 2019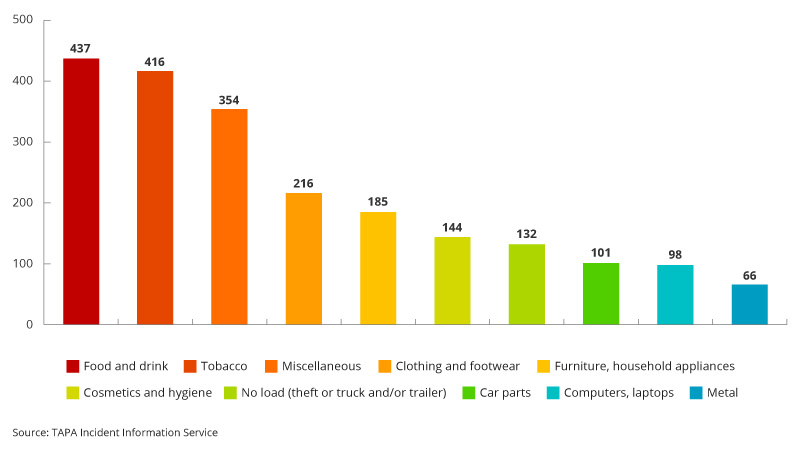 European regulations restricting the number of consecutive hours a truck driver can operate often leave drivers with no choice but to take a break in locations where their cargo is a vulnerable target, reinforcing the problem posed by the lack of secured parking areas across Europe. As a result, industry leaders and representatives of the haulage sector have intensified calls for a larger network of secure parking sites for trucks in Europe. Thefts from facilities (such as warehouses) – which are more complicated to complete than thefts from unsecured areas – will likely remain relatively rare compared with theft from vehicles.
Cargo theft trends, EMEA region, January 2018 – June 2019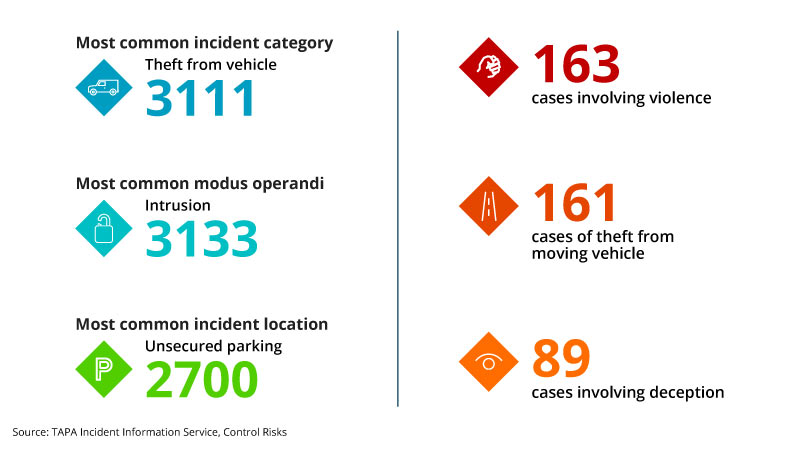 Organised criminal groups targeting cargo in Europe have become more sophisticated over the past years, leading to an uptick in a modus operandi known as "surfing", which involves the theft of goods from moving trucks. Theft involving sleeping gas or violence have also been on the rise.
However, intrusion without causing physical harm to drivers will likely remain the main modus operandi of cargo theft. The prevalence of soft-sided trailers across Europe drives the high frequency of the "slash and grab" tactic, in which criminals cut through the tarpaulin of trailers; this accounted for most incidents recorded by TAPA in Europe in the past years. Hijackings are less common in Europe than in other regions such as South America, but criminal actors retain the capability to use such methods, most notably in France and Italy, according to the BSI.
The fraudulent acquisition of delivery contracts, often through online freight exchanges infiltrated by criminal actors posing as legitimate companies, is another popular method of cargo theft. This is primarily the result of subcontracting practices by transport operators featuring insufficient checks and vetting processes, and sometimes without the agreement of the contract-awarding company. The main tactics of phantom (fake) carriers for fraudulent contract acquisition include:
The creation of bogus companies.
The purchase of legitimate transport companies to gain access to information, which is then exploited.
The theft of the identity of established transport companies (haulage contractors or freight carriers). This can include deceptive pick-up, whereby for example cargo thieves arrange an earlier pick-up, sign for the shipment using the legitimate carrier's identity and disappear with the cargo.
Inside and outside ports
Cargo faces a lower threat when in ports and aboard sea-going vessels. Ports serving vessels on international transits – and ships loading cargo – are required under the International Ship and Port Facility Security Code (ISPS) to maintain a high level of risk management and security. European ports rigorously implement and maintain security measures such as restricted areas, CCTV monitoring and secure perimeter fencing.
Cargo is therefore relatively more protected both once inside a port facility and aboard a ship compared with – for example – the parking areas outside of ports, which may not fall within secure perimeters. However, cities with large ports, such as Antwerp (Belgium), see more cargo theft, likely because of the large volume of cargo traffic moving between the port facilities and the city itself.
The UK's exit from the EU, currently scheduled for 31 October, would likely affect ports more than other parts of the transport network, though it could also affect the adjacent road network. In the event of a no-deal Brexit, ports would be unlikely to have adequate infrastructure and staffing levels in place to smoothly process goods. In any case, new checks would put significant strain on port infrastructure and likely lead to long queues of vehicles on the roads leading into ports. This could create a new point of vulnerability for the haulage sector, as stationary vehicles could be targeted for theft.
Mitigation measures
To ensure the safety of drivers and cargo, haulage businesses and those contracting their services should aim to carry out a baseline of measures aimed at increasing resilience in their supply chain and fulfilling duty of care obligations to employees and contractors. Measures to achieve this could include:
Thorough due diligence prior to recruitment of staff – given a growing insider threat – and on all potential business partners and agencies providing drivers. This could include both contracted companies and individuals, with third party providers conducting detailed investigations if deemed necessary.
Subscribing to a threat monitoring service providing the latest information on recent incidents, locations and the modus operandi of threat actors.
Security awareness training for all staff along the supply chain, including contractors. This would aim to increase individual and organisational awareness to threats, with staff empowered by senior management to report suspicious behaviour, including potential insider threats.
Journey management and live tracking of both vehicles and shipments, with drivers given planned routes with safe locations and reporting schedules. Management should be able to monitor live progress and investigate abnormalities when required.
Personal safety training for staff members most at risk, including information on common threat vectors and appropriate responses to ensure welfare.
Contingency planning and awareness, with staff trained on how to respond in the event of an incident along with contact lists for assistance and reporting.
Ensuring individual drivers and management have appropriate contact information for all emergency services along their route, including national variations and relevant country codes.
Coordinating with other haulage organisations, stakeholders and supply chain partners to increase information sharing, align standards and maximise available resources.
Businesses' responsibility
The EU in 2017 designated organised property crime a priority until 2021 for the European Multidisciplinary Platform Against Criminal Threats (EMPACT), an ad hoc management environment that addresses organised and serious international crime. This has effectively made combatting cargo theft an EU-wide priority action for the coming years. Meanwhile, the German State Office of Investigation of Saxony-Anhalt in September 2018 launched an EU-financed initiative, Project CARGO, which is running (at least initially) for two years. It features regular operational meetings and joint EU member state investigations and seeks to dismantle mobile organised criminal groups specialised in cargo theft.
However, the continued high number of incidents recorded across Europe indicates that enhanced cross-border cooperation and bolstered dedicated resources will not fully mitigate the threat. As a result, it will be businesses – rather than governments and international bodies – that continue to bear the greatest responsibility in protecting their assets against cargo theft.
Part of the Big Picture Series, taken from Seerist Core.

You may also be interested in