Applying Technology Solutions
Mastering information, extracting value from data
Applying Technology Solutions
Control Risks operates at the nexus of risk and opportunity. The rise of data as an asset and a liability puts it in the same place: both problem and a solution at the same time. Nearly every assignment we undertake requires the same analysis : "Is there a data problem here, is there a technology solution?"
Investigations and technology
It is rare that an investigation of any kind does not benefit from the appropriate application of technology. Control Risks has a truly global technology capability that offers end-to-end solutions in support of investigative activity.
Whether it is a corruption, fraud or regulatory investigation, or a cyber breach, with technical expertise in proprietary and customised solutions, resources in 36 countries and nine international data centres, we can handle the most challenging assignments in a seamless, cross-border fashion.

The disruptive force
How do you assess the true value of your data, turn it into information, utilise and protect it? Control Risks Technology Solutions provide an expert approach to identifying critical data, and generating relevant and actionable insights.
Technology is a disruptive force, but leveraging technology solutions for growth enables your business to channel the disruption positively and tilt your data firmly on the side of asset, not liability.
Identification, preservation, collection, recovery and analysis of digital systems
Review and analyse structured and unstructured data in complex investigations
You may also be interested in
Cross-border electronic discovery in Asia
Trends in the Asia Pacific region show a rise in cross-border litigation and enforcement of antitrust and FCPA violations. While electronic discovery in the West has become routine, there are additional cultural, procedural and technical complexities that make it challenging in Asia.
Don't panic: conducting cross-border investigations in Latin America
With the wave of anti-corruption activity in Latin America, how can lawyers best help their companies respond to corruption allegations?
The changing scope of fraud, bribery and corruption investigations
With the increasingly large amounts of data residing within companies, how do you better comply with the complex landscape of regulatory requirements?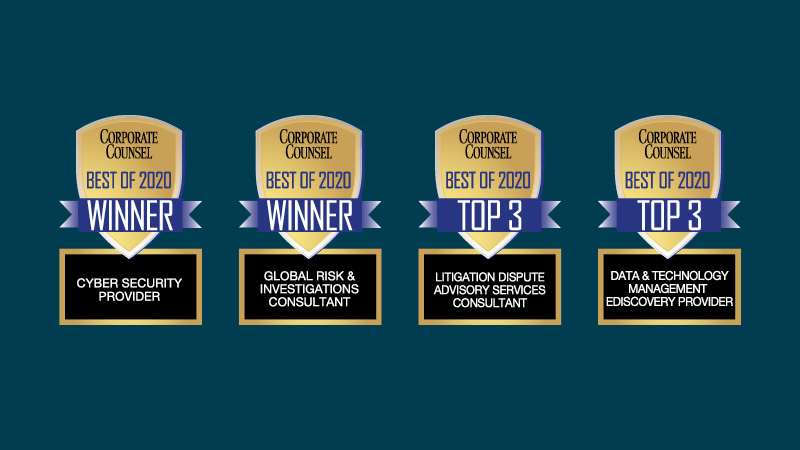 Control Risks have been recognised within the Best of Corporate Counsel 2020 report, winning Best Cyber Security Provider and Global Risk & Investigations Consultant.