Analysis
Who will blink first? – A tricky return to mutual compliance for US and Iran with nuclear deal
Middle East
Americas
Ethics, Compliance and Governance
Who will blink first? – A tricky return to mutual compliance for US and Iran with nuclear deal
---
Washington has signalled its intent to re-enter the 2015 Joint Comprehensive Plan of Action (JCPOA – the nuclear deal), which is likely to lead to a lifting of US nuclear sanctions on Iran. However, its re- entry requires a diplomatic process that will be fraught with delays and challenges.
Iran and the US will seek to create a roadmap to return to mutual compliance with the nuclear deal. This roadmap could be completed as early as mid-2021.
The US will seek to begin a return to mutual compliance before a new Iranian president takes office in August, but a full return to mutual compliance is unlikely until later in 2021 or 2022.
The US will agree to lift nuclear sanctions and other sanctions imposed during the previous administration as part of its return to the deal, meaning that sanctions on some strategic sectors will be eased.
Some sanctions imposed by the previous US administration – such as sanctions linked to support for terrorism and to Iran's ballistic missile programme, human rights record and malicious cyber activities – will continue.


Intent to preserve the deal
Both Iran and the US have stated that they want to preserve the nuclear deal and return to mutual compliance. However, the US's position comes with a caveat: it wants follow-on negotiations to address other issues, such as Iran's regional policies and ballistic missile programme.
Both Iranian and US officials have said that they will comply with the deal after the other side #complies first. In recent weeks, Iranian Foreign Minister Javad Zarif and President Hassan Rowhani have suggested a potential solution: both sides can synchronise their return to compliance.
The US is likely to be amenable to such an approach. On 18 February, Washington stated that it was prepared for talks with Tehran and the other signatories to the nuclear deal (France, Germany, the UK, Russia and China). In another conciliatory move, Washington the same day eased domestic travel restrictions on Iranian diplomats working at the UN and rescinded former US president Donald Trump's (2017-21) October 2020 move to trigger the automatic reimposition of UN sanctions.
The path forward
In the coming months, Tehran and Washington will seek to create a roadmap for both sides to return to compliance with the deal, but several factors will lead to delays. There is an ongoing debate within the administration of US President Joe Biden over whether the US should re-enter the nuclear deal before seeking an expansion of its scope. Washington will likely conclude – aptly – that Tehran would respond negatively to an attempted scope expansion by breaking o" negotiations and accelerating progress towards a nuclear weapons capability. As a result, the Biden team is most likely to return to the nuclear deal and then seek follow-on negotiations. Nevertheless, such internal debate will stall negotiations.
But time is not on the administration's side: already more than a month into Biden's presidency and with both sides squabbling over who should make the first move, Washington will need to accelerate its e"orts if it wants to finalise a roadmap before the Iranian presidential election on 18 June. The election will lead to the departure of Rowhani (as he cannot run for a third term) along with the team that negotiated the 2015 deal and has experience dealing with some of Biden's senior officials. The victory of a conservative figure in the Iranian election – which has become increasingly likely since Trump's 2018 withdrawal from the nuclear deal – could usher in a more conservative nuclear negotiator who would take an inflexible stance during negotiations, thus prolonging the process. Nevertheless, Supreme Leader Ali Khamenei, who makes the final decision on all major foreign policy decisions, will ensure continued engagement with the US to preserve the nuclear deal, regardless of who becomes president.
Whither the sanctions?
One question reigns supreme for foreign investors interested in Iran: when will US sanctions on Iran be lifted? The flurry of sanctions that Trump imposed on various Iranian entities and sectors of Iran's economy has complicated the US's re-entry into the nuclear deal. For example, some of those that were imposed on terrorism-related grounds will not automatically be reversed if Biden re-enters the agreement.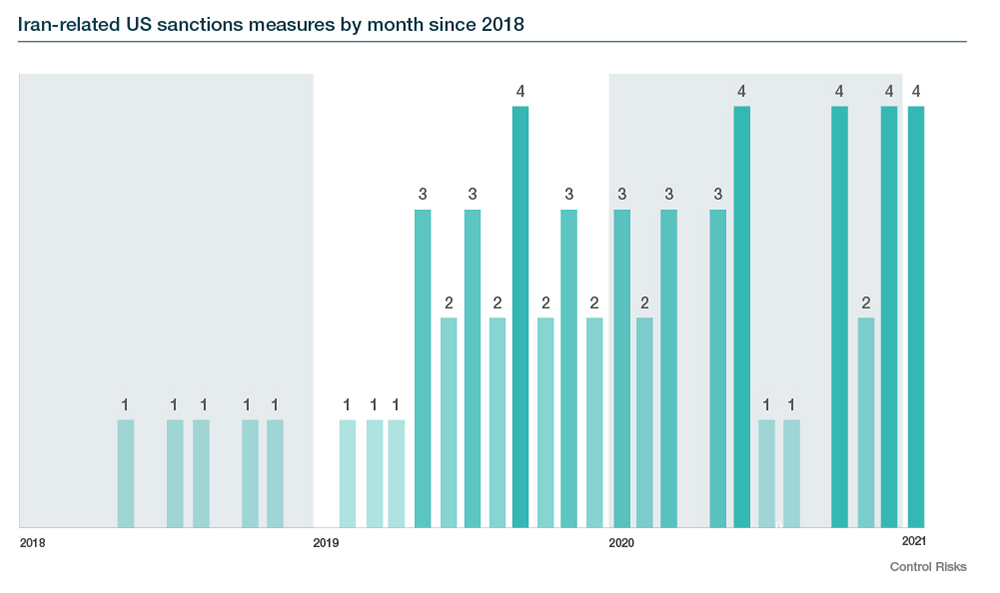 As Iran and the US work towards a roadmap in the coming months, Washington is likely to o"er some concessions that will ease doing business in some sectors, such as the humanitarian sector. For example, the US is likely to allow the use of some frozen Iranian assets in South Korea (worth an approximate USD 1bn) for humanitarian purchases. In early February, the IMF, likely after getting the green light from the US, stated that it was going to process a USD 5bn loan originally requested by Iran in March 2020 to fund humanitarian purchases. Biden is also likely to authorise some humanitarian trade with Iran through mechanisms such as the Swiss Humanitarian Trade Arrangement.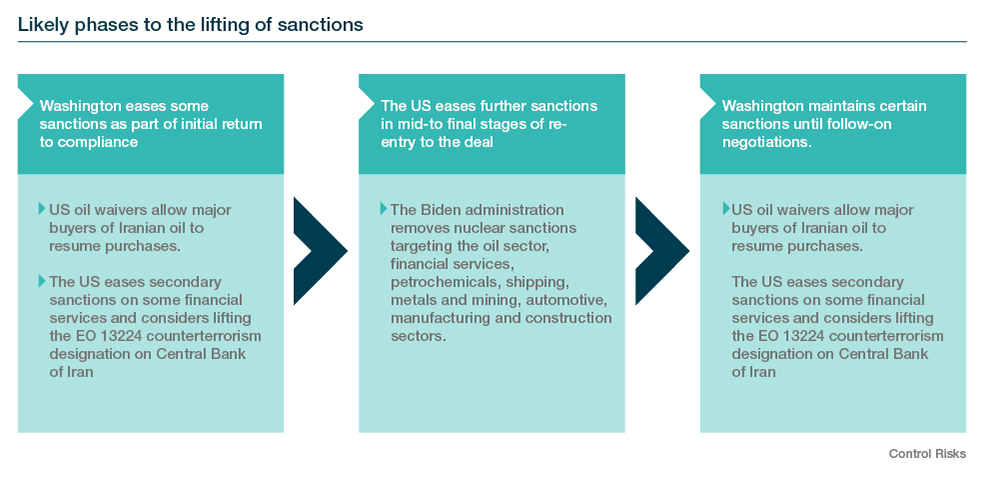 The final agreed roadmap – which could be completed as early as mid-2021 – will likely comprise phases. The US is likely to first ease sanctions on Iran's oil and banking sectors, as Iran is unlikely to agree to take significant steps to return to compliance without this. To begin, the US could provide a limited number of oil waivers to countries seeking to purchase Iranian oil. The US could also lift secondary sanctions on some Iranian financial institutions in exchange for Iran shipping some of its enriched uranium (over 3.67%) out of the country.
The Biden administration would like to begin implementing the roadmap before a new Iranian president assumes office in August. However, implementation is likely to be delayed until later in 2021 or 2022, given how complex negotiations over the roadmap will be. Nevertheless, the two sides' mutual commitment to the process will likely lead to the eventual lifting of all nuclear sanctions on some sectors in Iran, such as the petrochemicals, mining, shipping and automotive sectors.
Additionally, the US is likely to remove the Central Bank of Iran and the National Iranian Oil Company from its designated terrorist list in exchange for Iran's full compliance. Although Iran will also want the Islamic Revolutionary Guards Corps (IRGC) removed from the US's Foreign Terrorist Organization (FTO) list, this is highly unlikely – at least until an agreement can be reached to address other issues of concern to the US, such as Iran's ballistic missile programme and human rights violations. Such an agreement is only likely to be made during follow-on negotiations once mutual compliance with the nuclear deal has been achieved.
You may also be interested in