Analysis
Regulatory risks in tech to continue rising with growth of sector
Africa
Organisational Resilience
Investor Services
Regulatory risks in tech to continue rising with growth of sector
---
Nigeria – Africa's largest technology market for internet users and mobile subscriptions – has in recent years increased its oversight of the tech sector in parallel with a global increase in regulatory risks related to the industry. This has included taking increasingly strict and swift measures such as implementing a ban on social media site Twitter. We examine the outlook for regulatory risks related to the sector.
The prospect of cracking the lucrative Nigerian tech market, especially in sectors such as financial services, will continue to fuel a boom in investments.
However, rising cybercrime and insecurity driven by online disinformation will likely prompt increased oversight of the sector and drive an increase in regulatory risks.
Furthermore, the government will increasingly view the growth of the sector as an opportunity to get more revenue, fuelling taxation risks.
New legislation for the sector will pose additional regulatory hurdles for tech investors and businesses operating and looking to operate in Nigeria in the coming years.
Investment boom
The information, communications, and technology sector (ICT or tech sector) is one of the fastest growing in Africa. In particular, the venture capital scene has seen an influx of capital, from both local and international investors, reach unprecedented heights in recent years. Nigeria – the largest economy in Sub-Saharan Africa – leads this growth across the tech value chain. According to the National Bureau of Statistics (NBS), the tech sector contributed 15% of GDP in 2020 – spurred on by the effects of the COVID-19 pandemic. This meant that it was the second highest contributor after agriculture, and continues a trend of growth of 18% between 2016 and 2019. The pandemic will continue to spur growth in the sector as industries including finance, education, entertainment and manufacturing become increasingly reliant on communications services.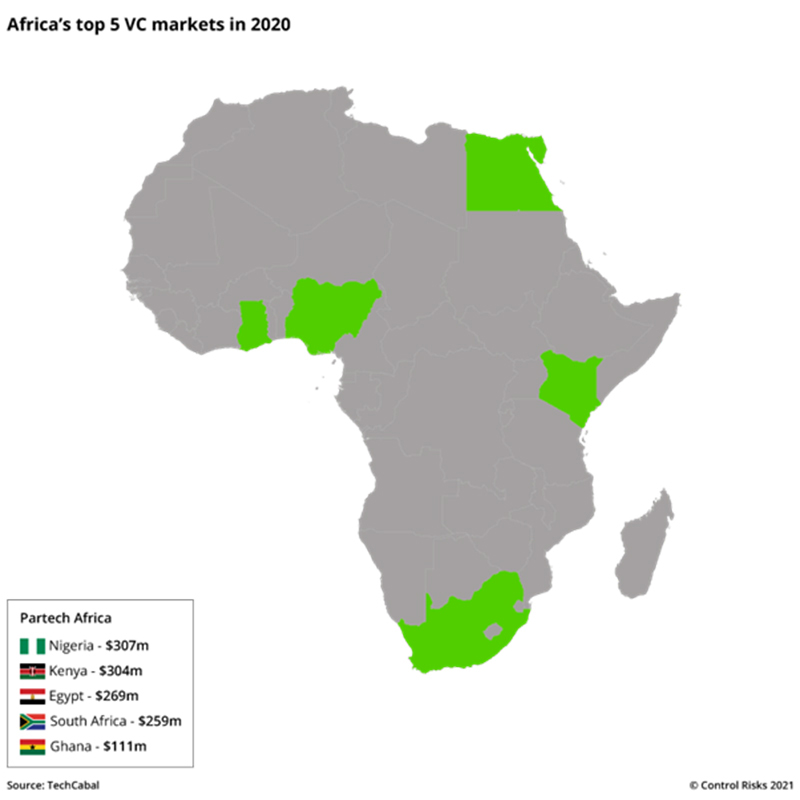 The financial technology (fintech) space dominates this growth, and will continue to do so given that Nigeria has Africa's largest unbanked population – according to the Central Bank, up to two thirds of Nigerians have no access to formal financial products. Investors are looking to replicate the success of mobile money in countries like Kenya and Ghana, which have only recently created regulatory frameworks for this. More than a billion dollars' worth of investment has gone into African fintech, with investors spending USD 400m in Nigeria in November 2019 alone. So far in 2021, at least nine Nigerian fintech startups have announced capital injections ranging from USD 1m to USD 170m. This is on the back of the emergence of payments firms such as Interswitch, Flutterwave, and most recently Opay in August as bona fide unicorns (a startup company which has a value of over USD 1bn). There is also an ongoing scramble among global technology firms and investors seeking to capture market share in Nigeria's underdeveloped but rapidly growing digital infrastructure market. Meanwhile, there are significant investments being made in data centres, as well as terrestrial and subsea cable networks to improve connectivity.
Evolving regulation
This growth has not gone unnoticed by the country's regulators. Industry operators in Nigeria anecdotally report regulatory risk as being on par with operational challenges. The ban on Twitter in June is one of the latest examples of the recent wave of regulatory interventions that are both unpredictable and often implemented suddenly. Despite widespread criticism of the ban by civil society, the government stated that it required Twitter to establish a legal presence with an address in country in order to reverse it. Minister of Information and Culture Lai Mohammed on 15 September said that the government would lift the ban in the "coming days", although it is currently unclear what the terms for the reversal will be.
Other recent regulatory limitations have been implemented to crypto-currency trading, online securities trading, online asset management, and online media. Disruptive new regulations often come into effect at very short notice (sometimes as little as 24 hours), and are justified on the basis of protecting national interests. These decisions have raised uncertainty for investors, especially regarding the government's commitment to digital rights. For example, while Nigeria has never implemented an internet shutdown during elections, investors and tech companies are concerned that such measures can be considered in future elections; although this remains unlikely.
However, the government has legitimate concerns on which to base an increase in regulatory oversight. For example, cybercrime is on the up in Nigeria, with both victims and perpetrators seeing a marked increase in 2020. While the Nigerian Cybercrime Prevention and Provision Act 2015 has been a useful deterrent, it has been largely inadequate in preventing the vulnerability of major institutions, including banks. During the recent #ENDSARS protests – carried out in October 2020 against brutality perpetrated by the police Special Anti-Robbery Squad (SARS) – many government websites were attacked, leading to disruptions and financial losses.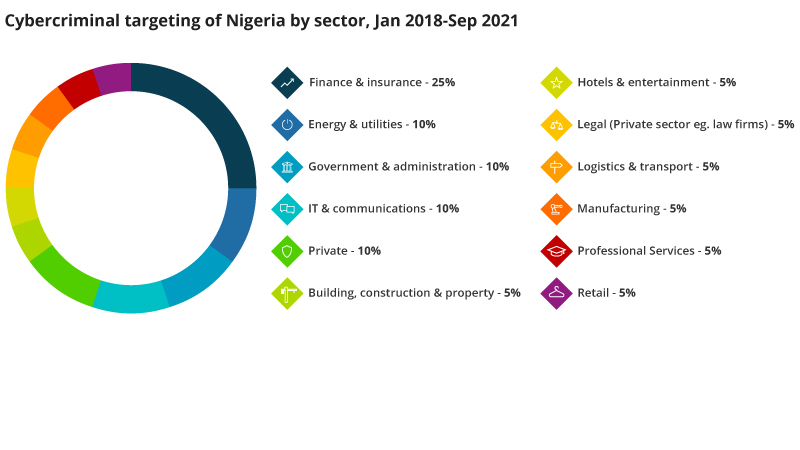 In many ways, Nigeria's tech industry regulators are also on a learning curve and they are striving to keep up with the pace of change. There have certainly been some positive attempts. For example, the Central Bank on 30 August announced that it had begun implementation of its digital currency (called the eNaira) with a partner called Bitt Inc.
Despite this progress however, regulation will remain largely erratic and inconsistent, and skewed towards protecting existing institutions and the administration. For example, new regulations limiting online forex trading and online asset management are likely to protect traditional institutions and maintain control over forex.
New legislation
The government is also keen to raise more money from the sector though taxes. An indirect value-added tax (VAT) on digital services has been enshrined in the Finance Act since 2019, although implementation has been challenging. Several sweeping statements about potential new taxes for the tech industry have been made by the government, most recently by Vice-President Yemi Osinbajo. The National Information Technology Development Agency (NITDA) has proposed an amendment to its enabling 2007 law to regulate the digital economy which has raised further concerns for investors and operators. The draft bill, which was released on 18 August, has three provisions that would create additional regulatory burdens for tech investors and businesses operating or looking to operate in Nigeria:
NITDA will issue licences to tech companies and maintain a register of businesses in the digital economy, in addition to other corporate registrations. Licences will be classified into three sections: product, service provider and platform provider. It also proposes sanctions for those who default.
NITDA will "test and approve" any technology before it is used in Nigeria, and demand whatever licence fees and penalties it deems appropriate.
Technology businesses that make over NGN 100m (USD 243,000) a year will pay 1% of their profit before tax to a government fund to improve the digital economy. It mandates "foreign digital platforms targeting the Nigerian market" to contribute to the fund which telcos, banks, pension funds, and insurance companies already pay into.
The provisions are not geared to supporting the sector's growth, rather focusing on increased control and revenue, making it likely that the draft bill will be amended and delayed until after the 2023 national elections before it is passed. In addition, they contrast with a startup bill being led by local tech startups and modelled on similar laws in Senegal and Tunisia. The startup bill is being presented to the President's Office, with sector stakeholders hoping it will be passed before the end of the current administration.
Outlook
Social media use in Nigeria is forecast to increase. This will sustain an increase in regulatory risks for investors in the sector in the coming years, particularly as the government's desire to monitor it will continue to grow amid concerns of insecurity driven by online disinformation. The National Intelligence Agency (NIA) on 13 July received approval to purchase a software to monitor messaging service WhatsApp and other online communications systems. The National Assembly is also considering amendments to the Nigerian Press Council (NPC) and National Broadcasting Commission (NBC) laws that seek to expand government control over the media, including over-the-top (OTT) and streaming platforms. While this amendment is likely to pass, enforcement will remain challenging given that most social media and large tech firms are not Nigerian companies. Quickly enforced bans will remain a resort that the government will use to control tech companies, sustaining regulatory risks.
You may also be interested in