With the global economy on the brink of recession, 2023 is set to be a challenging year across sub-Saharan Africa. Rising interest rates and runaway inflation have already sent Ghana into financial meltdown, and will put many other debt-burdened governments under greater stress this year. As political risk specialists, we always look particularly closely at how economic risk passes through to political and security risk: these adverse consequences are already on full display across the region.
With the global economy on the brink of recession, 2023 is set to be a challenging year across sub-Saharan Africa. Rising interest rates and runaway inflation have already sent Ghana into financial meltdown, and will put many other debt-burdened governments under greater stress this year. As political risk specialists, we always look particularly closely at how economic risk passes through to political and security risk: these adverse consequences are already on full display across the region.
Economic pressures will shape the risk environment for Africa's mining investors in many ways. As a critical source of tax revenue, foreign exchange and formal employment, miners will find it hard to escape the spotlight. With varying degrees of assertiveness, governments are turning to large taxpayers to demand increased revenue and more local jobs. Local politics will often determine how hard the private sector, rather than the electorate, will need to be squeezed. Shrinking and struggling public services will reduce state support for large mining operations. Tougher times will make the appeal of artisanal mining stronger in resource-rich areas, increasing pressure around gold and copper mine sites.
Some of Africa's largest mining jurisdictions, profiled below, display many of these vulnerabilities, from Ghana's debt woes to South Africa's loadshedding crisis. But at the same time, the industry remains remarkably resilient and continues to display major investment potential, at a time where overall levels of foreign direct investment (FDI) are in decline. As a supplier of many of the world's critical minerals for the energy transition, the continent and its mining sector are also increasingly at the heart of geopolitical competition. This is already triggering a wave of interest from major geopolitical players, most visible in the US's re-engagement with African producers such as Zambia and Congo (DRC). Graphite, lithium or rare earths deposits, for example, are seeing increased exploration activity and competition from Chinese and Western offtakers. This will likely benefit not just established producers, but an array of mid-tier, smaller or less-explored mining markets from Côte d'Ivoire to Mozambique and Namibia, which will also present attractive opportunities for investors.
Botswana: Stable despite greater political turmoil
Botswana will remain one of sub-Saharan Africa's most stable investment destinations in 2023. The world's largest diamond producer had a tough 2022, with post-pandemic constraints and unreliable electricity supply from South Africa weighing on economic activity. Political instability has also increased, in large part due to tensions between President Mokgweetsi Masisi and his predecessor Ian Khama, who has been self-exiled in South Africa since 2021 and faced an arrest warrant in late 2022 for illegal possession of firearms. There has also been a gradual centralisation of power in the president's office and growing allegations of undue influence in state institutions, including the security/intelligence services and, more notably, the Botswana Unified Revenue Service (BURS), which has been accused of targeting the president's opponents.
Congo (DRC): Tshisekedi's quest for re-election
For Congo, Africa's largest copper producer, 2023 is an election year. President Félix Tshisekedi will seek re-election on 20 December and is the clear frontrunner. He has gradually taken full control of state institutions since 2019, and will start the race with vastly superior campaign resources and a political network of parties from the Sacred Union coalition to deliver votes for him across the country. However, insecurity in eastern regions, the threat of a boycott of the polls by the opposition and the major logistical and financial challenges facing CENI will make the polls and their results controversial. A diplomatic crisis with Rwanda, thought to back the M23 rebel movement in eastern Congo, will also loom large over the elections. We believe that the elections are likely to take place on time, but a last-minute delay into 2024 cannot be ruled out if voter registration fails to make sufficient progress at the start of the year. In the Katangan copper and cobalt belt, simmering ethnic tensions are likely to make the elections turbulent.
Ghana: Navigating debt restructuring
Long seen as a bastion of political stability, Africa's largest gold producer has seen international investor confidence severely damaged by the past year's economic and debt crisis, with inflation reaching a record 54% in December. A staff-level agreement reached with the IMF in mid-December to unlock USD 3bn is an important first step to stabilise public finances, but will require challenging debt-restructuring negotiations with both domestic and external creditors, which will dominate most of 2023. With elections due in late 2024, the government of Nana Akufo-Addo is under political pressure and has a narrow path to implement tough adjustments, while minimising the costs to the electorate and salvaging its electoral prospects. Mining producers are already facing haphazard regulatory interventions, such as a requirement for all companies to sell 20% of refined gold to the central bank. Lots of things could go wrong – a delayed bailout, more populist measures targeting large taxpayers or widespread social discontent. This could make the investment climate more challenging for miners in the year ahead.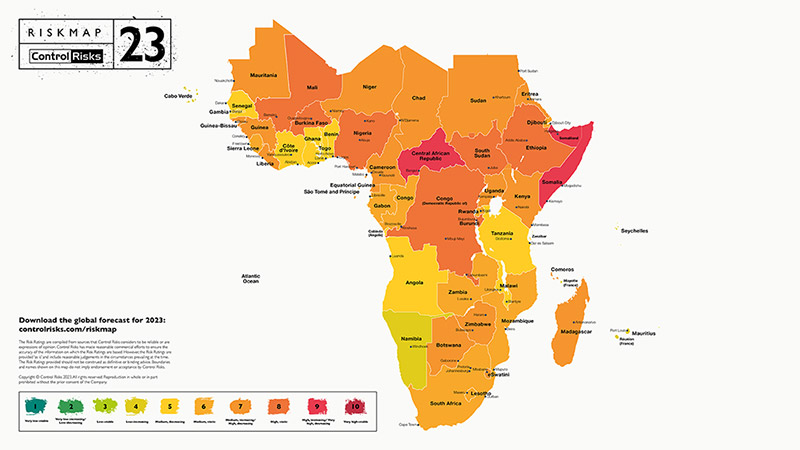 Source- Riskmap
Guinea: The military digs in
The world's bauxite powerhouse will remain under military administration in 2023. The junta (CNRD) led by interim President Mamady Doumbouya does not plan to hand over power before early 2025. The CNRD has established total dominance over the state apparatus since the coup in 2021, put most political parties under pressure and managed to contain civil society protests in recent months. It will likely continue to resort to repression to maintain stability in 2023. Another coup is unlikely in the next year, though internal divisions within the army will remain a source of vulnerabilities. In the mining sector, advancing the Simandou iron ore development, boosting local content and extracting greater income from bauxite projects will be the government's main priorities. While generally curbing corruption, the junta has showed a clear nationalist stance and allowed little consultation with industry since the coup. Further regulatory interference is likely in the next year.
Sahel: Navigating a political and security minefield
Political instability and insecurity will continue to cast a cloud on over mining investment in Mali and Burkina Faso, two of Africa's largest gold producers. The two countries will remain under military-led transitional administrations, with Burkina Faso showing signs of following Mali in its controversial rapprochement with Russia, at the expense of traditional Western partners. While both governments continue to support the mining industry as a key source of revenue, neither are likely to provide an effective security response to Islamist militants. Even if these groups do not significantly expand to further areas in 2023, their growing interest in targeting mining operations will continue to put pressure on logistics and security costs, and deter exploration in new areas. Understanding the geography of militant areas of influence will be more critical than ever to maintain and develop safe operations in the region.
South Africa: Decisive action remains unlikely
2023 will be a transition year in South Africa, between the December 2022 National Conference of the ruling African National Congress (ANC) – which returned the embattled Cyril Ramaphosa as party leader – and the general elections slated for May 2024, at which the ANC will struggle to preserve its parliamentary majority. Despite a more friendly ANC National Executive Committee, Ramaphosa will still face major internal divisions that will slow the pace of reforms and prevent decisive action to tackle the woes that have crippled the mining industry, from severe power blackouts to an ailing and strike-hit freight transport system and a sharp rise in illegal mining and large-scale theft by organised criminal syndicates. Short of receiving positive signals from the authorities, mining investors in 2023 will increasingly look to insulate their projects from these operational challenges, whether by bolstering security, evaluating alternative supply routes or taking advantage of a more favourable regulatory regime to invest in self generation from renewable sources.
Tanzania: Suluhu's seismic shift
President Samia Saluhu will continue to cultivate her international reformist image in 2023, and look to increase foreign investment and financial support. Following her re-election unopposed as chairperson of the ruling Chama Cha Mapinduzi (CCM) in December 2022, and with no elections due until late 2025, Suluhu will be emboldened to sustain reforms in the coming years given her increasing authority. We expect the government to drive further regulatory changes to facilitate investment for foreign mining operators. The adoption of new mining regulations in October 2022 that revoked previous regulations from 2020, widely perceived as overly stringent, has already gone some way towards addressing the uncertainty around local content issues and free carry interest that deterred investment under Suluhu's predecessor John Magufuli (2015-21).
Zambia: Comeback in progress
Zambia's mining sector is one of our brighter spots for 2023. The country has made significant progress with its creditors following a sovereign default in 2020 and is likely to reach an agreement on restructuring its debt in the first half of 2023. Combined with President Hakainde Hichilema's bid to attract foreign investment by reducing mining royalties and bolstering anti-corruption efforts, this is driving a significantly more pro-business stance that particularly favours Western investors. This was highlighted by Hichilema's high-profile position during the December 2022 US-Africa Leaders Summit in Washington and Lusaka's inclusion on the programme of the US treasury secretary's Africa tour in January. Joint efforts with Congo, supported by many international partners, to increase local processing of critical minerals and move up the electric battery value chain hold significant potential.
You may also be interested in