Critical minerals rush will expose companies to heightened ESG risks
Demand for critical minerals is surging as ESG compliance requirements grow and the scrutiny of companies who are sourcing, mining and processing critical minerals reaches an all-time high. The International Energy Agency (IEA) believes demand for critical minerals will double by 2030, an estimate based on global net-zero pledges. By 2040, demand for Lithium, for example, is expected be more than 40 times current levels.


Figure 1: Critical minerals projected demand increase by 2040 (based on 2022 levels)

Source: IEA
In many sectors, companies are increasingly dependent on critical minerals just as the risks associated with them are intensifying. The strategic significance of critical minerals is heightening geopolitical risk associated with mining, adding to the sector's more established risks such as supply chain, human rights and social or community and stakeholder engagement issues. Many of the most significant known critical minerals reserves are in complex operating environments in Latin America, Africa and Asia. Managing ESG risks is likely to be particularly challenging in such environments, not least because ESG regulation and enforcement is evolving fast and becoming highly politicised in some countries.
Figure 2: Number of public reports of ESG issues by mineral supply-chain, 2017-19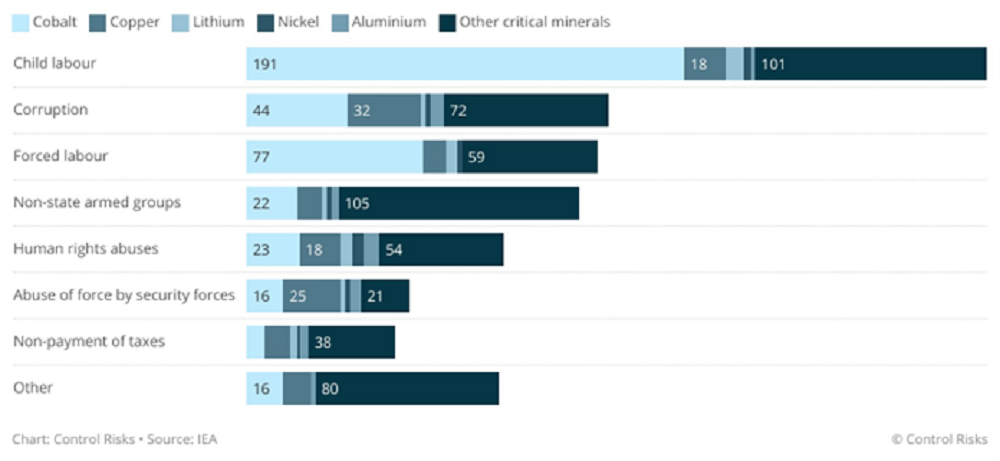 Businesses will be required to proactively implement robust tools to identify and map such risks accurately and efficiently. According to data by Control Risks' ESG Country Monitor, the extractives & minerals processing sector presents "Significant" social risk score for 53% of the 105 countries currently covered by the tool (on a scale that goes from Limited-Moderate-Significant) – the highest percentage across all sectors.
Figure 3: ESG Country Monitor social risk score overview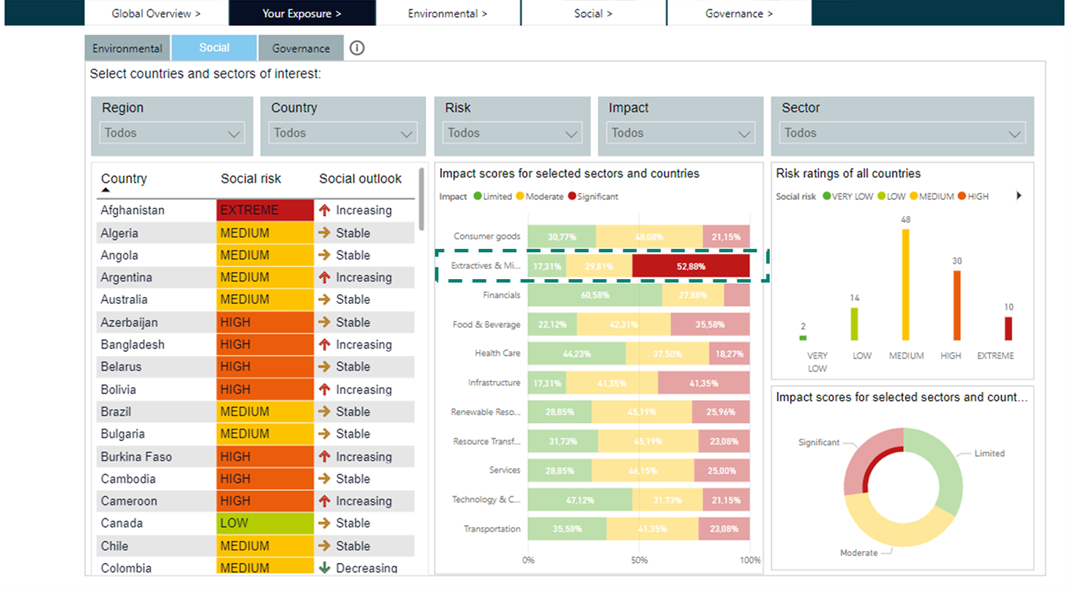 Control Risks' ESG Country Monitor
The race to secure advantage carries risks
Pressure to move fast on energy transition is prompting governments and companies to rush to secure critical minerals supply-chains. The strategic significance of critical minerals means that states will use diplomatic leverage and alliances, regulation, export controls and accelerated investment processes to compete for access and status. Short cuts may create exposures to risk. Decision-making may be unpredictable and inconsistent. Political and geopolitical developments may inject uncertainty into supply chain resilience and stakeholder engagement, as illustrated already by the US Inflation Reduction Act and the EU Critical Raw Materials Act, both of which make clear the commitment of Washington and Brussels to securing critical minerals as a strategic priority.

It is critical that companies understand and monitor the geopolitical dynamics that might impact their access to critical minerals – or their indirect exposure to ESG risks linked to critical minerals – and understand how those same dynamics are informing ESG regulation and enforcement.

A sense of urgency is also pervasive across private-sector moves to secure returns linked to critical minerals. Investment into critical minerals is unsurprisingly surging, with Western Australia a key focus of recent M&A activity in developed countries, which is expected to expand to Canada, especially Quebec, next. While compliance benefits linked to the US Inflation Reduction Act – which requires manufacturers to onshore supply chains – is a key driver of this trend in North America, the rush to invest is also being driven by an expectation that at some point ESG regulation will alter the commercial viability and attractiveness of some mining activities and opportunities. There is a danger that frenzied investment now will expose companies to ESG risks in the future.
Scrutiny factor
The presence of large multinationals in the critical minerals supply-chains, coupled with the sensitivity of the topic, means that external scrutiny is on the rise. In addition to ESG data provided by companies (as per new regulatory requirements in many jurisdictions), environmentalists also increasingly rely on technologies such as drone imaging, GPS and AI to map and identify environmental degradation and human rights violations in the remote areas where many mining sites are located. Direct and indirect reputational exposure will therefore come from increasingly diverse fronts.
Climate, indigenous communities and human rights risks

Mining is the sector in which human rights violations in the context of climate activism are the most prevalent. Since 2015, attacks on human rights activists connected to the mining sector have accounted for 30% of the total number of attacks on human rights activists, according to data by UK-based NGO Business and Human Rights Resources Centre. The rate is even higher (41%) for cases involving indigenous communities. The rise in attacks comes in the context of a rush by businesses and countries to secure critical minerals. According to data by the IEA, 85% of current and planned lithium projects worldwide, for example, are located on or near land connected to indigenous communities.
Blue space – contested space?
An increasing focus on seabed mining will be a key area to watch, particularly in the waters of Japan and Norway, where both countries can already undertake this kind of mining legally. Seabed mining would, if successful, reduce dependence on nickel and cobalt from Indonesia and DR Congo, and rare earths from China, but it is also highly contentious. Moves towards seabed mining would be opposed by countries that have vested interests in territorial mining or that have invested heavily into mines that would have their value undermined by seabed alternatives. There are also serious environmental concerns about seabed mining, and the associated ESG risks will be considerable. The commercial implications of potential future taxes on seabed mining activity are also currently unknown, which would be one way for governments to mitigate concerns about the associated environmental costs.
ESG for resilience
Although navigating ESG risk relating to critical minerals can be bewildering, effective management of this area of risk does hold the key to long-term resilience for companies with any sort of exposure to critical minerals. There are a host of standards and partnerships being established to consolidate and align approaches to ESG risk in mining, including the European Partnership for Responsible Minerals.

There is no question that innovation will create incredible opportunities for companies to mine, process and source critical minerals in more ESG-compliant ways (such as batteries which are less dependent on cobalt from DR Congo and nickel from Indonesia, but which need new supply chains for inputs such as silica sand and sodium), but these too will generate fresh challenges relating to ESG issues. Companies will need to embrace stakeholder engagement and proactively manage ESG risk in a holistic and data-driven way, drawing on technology to facilitate monitoring and reactivity.

We are supporting clients by helping to ensure that their approaches to risk incorporate ESG materiality assessment exercises, scenario-forecasting, regulatory and risk monitoring, and investment due diligence at a minimum. Being nimble is key, given the rapidity with which ESG risk will evolve and reshape the commercial value and risk associated with specific critical minerals in the years ahead.
You may also be interested in