Analysis
Indonesia election: President Jokowi likely to win a second term
Asia Pacific
Indonesia
Political and Economic Risk Monitoring
Market Entry/Exit Risk Assessment
Investor Services
Indonesia election: President Jokowi likely to win a second term, but the path to a functioning government will be anything but simple
---
More than 192 million Indonesian voters on 17 April will elect officials to over 20,000 public offices - including the presidency - in the world's largest election held on a single day. As the country with the biggest Muslim population in the world, Indonesia is also a place where Muslim voters matter most. Here is what you need to know about the election, its expected outcomes and their impact on business.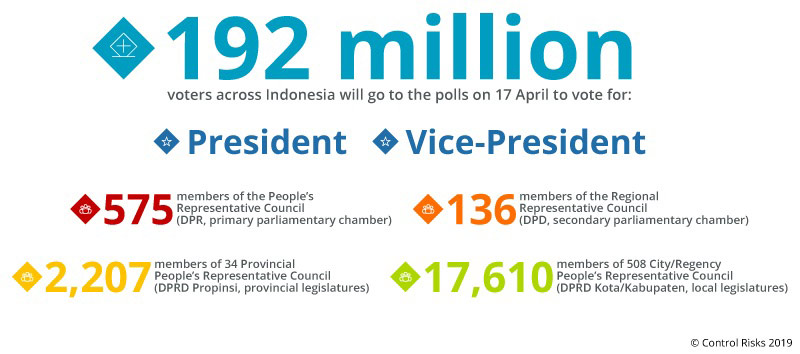 The main show: the presidential race
Reformist President Joko "Jokowi" Widodo, of the nationalist Indonesian Democratic Party – Struggle (PDI-P), is seeking to win a second five-year term in a rematch with former general Prabowo Subianto, his opponent from the last presidential election in 2014. Prabowo leads the opposition Great Indonesia Movement Party (Gerindra). This is the world's largest direct presidential vote (Indonesia does not operate an electoral college system like the US), with an anticipated high turnout – last time 75% of Indonesians participated.
Jokowi: The incumbent is a former furniture seller from Solo (Central Java province) who only started to appear on the national scene two years before he won the presidency in 2014. He beat Prabowo Subianto who once led the army special forces and was authoritarian President Suharto's son-in-law. Previously, as mayor of Solo and later governor of Jakarta, Jokowi focused on infrastructure, amenities for the poor and creating opportunities for private investment – all of which became features of his subsequent presidency. However, as an outsider, he has had to trim those reformist ambitions to stay on the right side of powerbrokers both within his own party and among the broader political elite – and that reticence has disappointed many.


Prabowo Subianto: The complete opposite of Jokowi, Prabowo is considered a member of the Indonesian elite. With a European education and a trade minister father, he joined the army and married the daughter of Suharto – Indonesia's second president. Supporters hail him as the strongman leader that the country needs, while his detractors fear his belligerent nature and jingoism. A Prabowo presidency would put national and elite interests at the forefront. Erudite, cosmopolitan and multilingual, he is also a devoted economic nationalist and isn't afraid to play the Islamist card to advance his agenda, despite being less than devout himself.


The defining side show: the complex national parliamentary elections
An equally important but under-reported element of events on 17 April is the race for the 575-seat People's Representative Council (DPR), the country's principal legislative chamber. This is in addition to 136 other national-level legislative seats in the Regional Representative Council (DPD) which are being contested. This is a bicameral parliament – with a slightly odd twist.
The DPR and DPD combine to form a supreme legislature called the People's Consultative Assembly (MPR). But the MPR only meets annually or on special occasions. For ordinary law-making, it is the DPR where bills are proposed and passed, making the contest to fill it the most important of the legislative elections. The DPD only contributes when the legislative process touches on matters pertaining to regional autonomy.
The voting to form the DPR is particularly complex. Indonesia uses an open party-list system, with proportional representation, in 80 multi-seat districts. Each party can nominate as many candidates as there are seats, and several parties are doing exactly that. As a result, there are a huge number of candidates – 7,968 – vying for 575 seats.
The first round of vote counting eliminates parties that fail to attain 4% of national votes; half of the 16 parties are unlikely to survive this first cut. The seat allocation process can then begin with the remaining parties. However, this stage is fraught with conflict over interpretations of the complex seat allocation formulae. Candidates on the lists are ranked by their parties, and voters have a choice – either to vote for the party as a whole, or to vote for an individual candidate. This means that, even within parties, rivalry exists.
The other contests
Simultaneously, voters will also decide who gets to sit in 34 provincial-level legislatures (DPRD Propinsi) and 508 city/regency-level councils (DPRD Kota/Kabupaten). All in all, there are 19,817 sub-national seats being contested, using the same complicated formula for allocating seats in the DPR.
All of this voting is executed and counted manually, which makes for a long wait for a final result (probably in late May). This means that the business of government, and any real decision making, will only restart in October.
Jokowi again
We expect a comfortable Jokowi re-election on the basis of his sustained popularity, infrastructure achievements and the weakness of the conflict-ridden Prabowo coalition. No polling has so far predicted an opposition victory; indeed several pollsters project a 20% margin for the incumbent. Jokowi is leading the polls in almost all provinces. His path to power seems clear, unless something spectacular and unforeseen undermines his appeal with mainstream Muslim voters.
To that end, the Prabowo campaign is going for broke, negatively campaigning against Jokowi and aggressively canvassing using nationalistic themes. Meanwhile, an air of complacency is seeping into the Jokowi campaign. Prabowo's chances remain remote but an upset is not impossible, especially if he can dig up a truly compelling smear against Jokowi.
Ruling party likely to control parliament again but…
We expect the next parliament to be more fractured. For the last three years, it has been dominated by a PDI-P-led coalition, but this is likely to slip to a slim majority. Only three of PDI-P's nine allies in the coalition are likely to win seats. On the opposition side, three parties, including Gerindra, will likely enter the DPR. Furthermore, Gerindra looks poised to be the number two party in parliament for the first time since its founding in 2008. This is partially because it is enjoying a coat-tail effect from Prabowo's candidacy. It also has an opportunity to pick up votes because the PDI-P's largest ally, Golkar, is suffering from various corruption scandals.
We therefore expect a more convoluted and disputed parliamentary process, and consequently a president with a diminished ability to enact his agenda. If the votes, especially for parliament, are contested in the courts, it will further elongate the timeframe. In this case, effective government may only begin very late into the year.
Picking winners
The first big test of a Jokowi second-term presidency will be his cabinet selection. He will likely ensure major economic posts are still in the hands of pro-market technocrats. Beyond that, he will face pressure to reward parties that supported his re-election, but these parties are unlikely to be friendly to foreign investment. Those choices will set the tone for his second term: is the reformist Jokowi going to stay the course or cave in?
Notwithstanding that, a second-term president Jokowi will continue to emphasise infrastructure and champion the digital economy. The country will continue to be a huge, attractive market with the growing consumption patterns of its younger demographic.
However, this is the politics of 'do no harm'. The foreign and domestic businesses that will benefit most from the policies and liberalisations of Jokowi 2.0 will be those that operate in sectors where the old guard Indonesian tycoons are limited in their presence (such as e-commerce), or where foreign capital and technical expertise is sorely needed (such as healthcare). In more traditional sectors, it will be foreign investors that are able to align their commercial goal with the objectives or interests of Jokowi's inner-circle elites, in areas such as industrialisation, infrastructure or the enhancement of state-owned enterprises, that will be most likely to prosper.
Systematic institutional reforms, including of key investor-facing institutions, will not be among the administration's priorities, however, and the 'breakthrough' leadership some still expect from Jokowi appears unlikely to transpire.
You may also be interested in