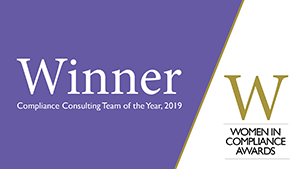 Paul Dudzinski is a Principal within Control Risks' Compliance, Forensics and Intelligence practice, based in Washington, DC. Paul's professional experience has focused on complex corporate investigations involving allegations of fraud, corruption, internal controls, and books and records violations. He has conducted engagements in the US, Asia, Africa, the Middle East, Latin America and Europe.
Paul's extensive FCPA and anticorruption experience includes global corruption risk assessments; forensic investigations; data analytics; compliance program development and implementation; pre and post-acquisition due diligence; third party due diligence; anti-corruption training program development and independent FCPA compliance monitoring engagements.
In 2019, Control Risks' Regulatory Risks and Investigations Team in the Americas, which Paul is a part of, was named Compliance Consulting Team of the Year at the C5 Women in Compliance Awards.
Recent tasks that Paul has worked on include:
Conducting corruption risk assessments in Italy, South Africa and Japan for a large US conglomerate.
Assisting a Fortune 50 company in conducting an internal investigation and responding to DOJ and SEC inquiries regarding FCPA violations in Brazil.
Working with a major pharmaceutical company to investigate bribery allegations throughout China.
Assisting a medical implant company in developing and implementing an FCPA compliance program across its global operations.
Independently assessing the anticorruption compliance programs of two international corporations as required under Deferred Prosecution Agreements with the US DOJ and SEC.

Other professional service experience includes forensic investigations and financial analyses in a variety of different industries. This includes work conducted in connection to two multi-billion dollar Ponzi schemes through coordinating with court-appointed receiverships in locating and liquidating company assets, investigating allegations of fraud, continuing basic company operations and supporting efforts in recovering investor funds.
Prior to joining Control Risks, Paul was with FTI Consulting as a Director in the Forensic and Litigation Consulting group. He graduated from the Kenan-Flagler Business School at the University of North Carolina with a B.S. in business administration. He is a CFA (Chartered Financial Analyst) charterholder and a Certified Fraud Examiner.