Analysis
Troops, talks and tension – Russian invasion of Ukraine unlikely
Political and Country Risk
Europe
Troops, talks and tension – Russian invasion of Ukraine unlikely
Botakoz Iliyas and Arjun Sharath
---
Russian President Vladimir Putin and US President Joe Biden on 7 December held a video call during which they discussed a Russian troop build-up near Ukraine, as well as US-Russia relations more broadly.


The talks will likely help de-escalate tensions over Ukraine in the coming months and pave the way for a security dialogue between the US, Russia, and NATO.
Russia is unlikely to invade Ukraine, and more likely the end goal is to pressure Ukraine to hold elections in the eastern Donetsk and Luhansk regions and strengthen Russia's geopolitical position.
In the unlikely event that Russia invades Ukraine, the US and other Ukrainian allies are likely to substantially escalate economic pressure on Russia, but unlikely to provide direct military assistance to Ukraine.

High-level talks
Biden during the call warned Putin that the US was prepared to impose "strong economic and other measures" against Russia should Russia invade Ukraine. Meanwhile, Putin demanded written guarantees from the US that Ukraine will not join NATO as that would constitute a "red line" for Russia. Both the White House and Kremlin reported that the conversation was frank and lacked much of the personal animosity between Putin and US leaders in recent years.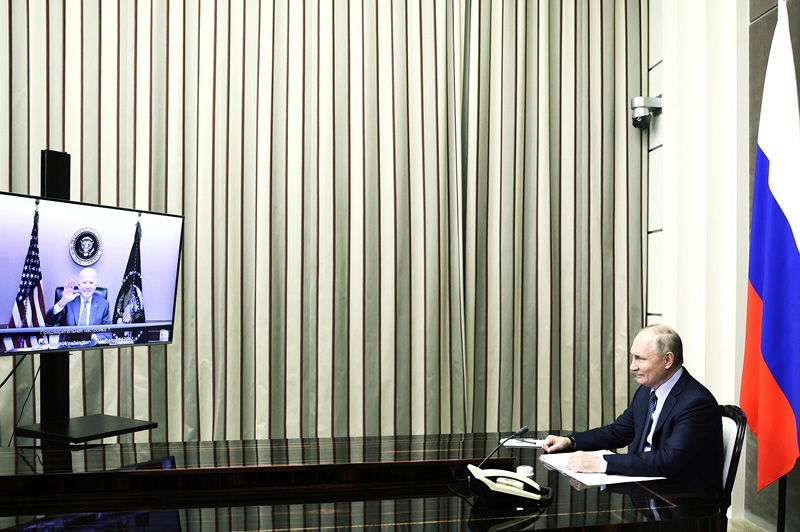 Putin and Biden videoconference, 7 December 2021 (Photo credit: Kremlin Press Office/Handout/Anadolu Agency via Getty Images)
The call came amid heightened tensions between Russia and Ukraine, and between Russia and Western countries, following confirmed reports since late October that Russia was massing troops and military equipment on its side of the border with Ukraine and in Russia-controlled Crimea. This is the second time this year that Russia has massed troops near Ukraine. In late March and April, Russia had about 120,000 troops near the border on the grounds that it was holding military drills, but in subsequent months withdrew some of the troops in the wake of strong Western and Ukrainian criticism. Since November, the US, EU, and UK along with Ukraine have voiced concerns that Russia may be building up its troop presence to invade Ukraine in early 2022. The US in April described the March-April build-up as the largest movement of troops since the "hot" conflict between Ukraine and pro-Russia rebels in the eastern Donetsk and Luhansk regions in 2014-15.
Invasion unlikely
Russia has denied plans to invade Ukraine and has reiterated that it is entitled to station its troops on Russian territory as it sees fit. However, Russia has voiced concern at Western military support for Ukraine, particularly any prospect of Ukrainian NATO membership. With this concern in mind, it has said that the US and other Ukrainian allies should cut back on their financial support to Ukraine's efforts to improve its military capabilities, such as the UK's financing of Ukraine's enhancement of navy capabilities. Russia's concerns about NATO's eastward expansion are not new and have been a regular feature of its relations with the West since the end of the Soviet Union, after which the three Baltic states and several countries that were once closely aligned with the former Soviet Union joined NATO.
We continue to assess that the build-up is unlikely to be a precursor to a Russian invasion of Ukraine, and a full-scale war in Ukraine outside the conflict zone in Donetsk and Luhansk is unlikely. A Russian invasion of Ukraine would likely strengthen NATO rather than weaken it.
Russia's more likely goals behind the build-up include putting pressure on Ukraine to hold elections in Donetsk and Luhansk, as well asserting Russia's military and geopolitical power in the region. Meanwhile, Putin's ability to hold a direct call with Biden helps Russia reach another goal – demonstrating Putin's and Russia's key role in global politics.
Notably, Russia has already achieved one of its key goals– keeping Ukraine destabilised and preventing it from joining the EU or NATO.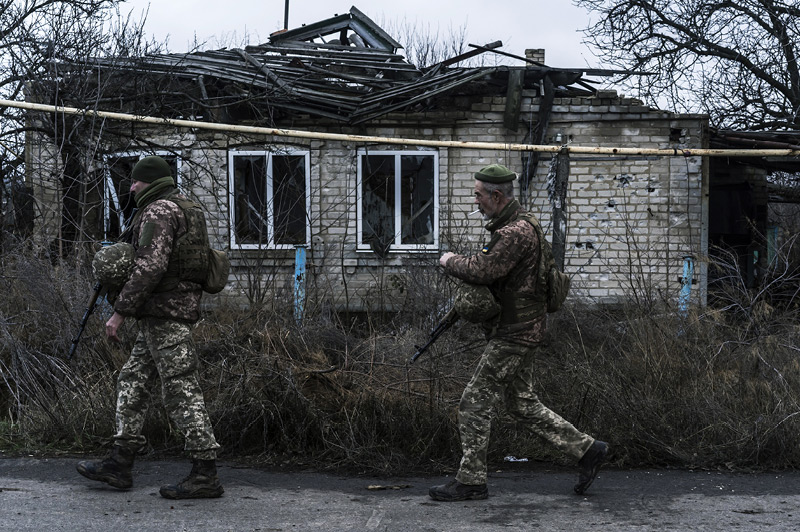 Ukrainian soldiers in Marinka, Donetsk region, 8 December 2021. (Photo credit: Brendan Hoffman/Getty Images)
US stance
Biden has made it clear to Putin that a Russian invasion of Ukraine would come with significant cost, including an escalation of the US sanctions regime on Russia, financial pressure on Russia's oligarchs, halting the Nord Stream 2 pipeline, deploying US troops to Eastern Europe, and providing material support to Ukraine. While the White House has stated that there is no formal security guarantee to Ukraine, Biden indicated to Putin that "things we did not do in 2014, we are prepared to do now". Meanwhile, Ukraine has called for a peaceful resolution of the tensions, and Biden on 10 December told Ukrainian President Volodymyr Zelenskiy that the US will include Ukrainian representatives in any "decisions or discussions about Ukraine".
The conversation is likely to help de-escalate tensions in the coming months, especially as the US, Russia and NATO in the coming days are set to announce talks on Russia's concerns about NATO expansion. The Putin-Biden talks are likely to help deter Russian aggression by facilitating a security dialogue and by communicating the cost of any aggression.
The US will also coordinate any response with European allies – Biden immediately followed the call with Putin with direct calls to French President Emmanuel Macron, UK Prime Minster Boris Johnson, German Chancellor Angela Merkel, and Italian Prime Minister Mario Draghi, all of whom had already agreed to work together in responding to Russia on Ukraine. Among the measures the US would take are additional deployments to support NATO, including to the Baltics.
Biden on 7 December said that, while the US would defend NATO, that obligation did not extend to Ukraine and the US would not unilaterally send troops to Ukraine in the event of a Russian invasion. However, the US is already providing substantial aid to the Ukrainian military, including lethal weapons and non-lethal equipment. There are also a small number of US troops and special forces already in Ukraine to train its military. We maintain that the EU and NATO are also unlikely to directly use force to confront Russia. However, support for the Ukrainian military will likely increase substantially under such a scenario, including providing battlefield intelligence and more weaponry.
NATO membership highly unlikely
We assess that Ukraine is highly unlikely to join NATO in the coming years. The alliance almost certainly will not admit Ukraine to avoid triggering a harsh response from Russia, weakening the alliance internally, and exacerbating tensions in the region. Russia for decades has opposed NATO's expansion towards Russia's borders, and the alliance understands well the sensitivity of this subject. However, the US has also refused to say Ukraine cannot join NATO, insisting that it "should be able to freely choose who [it associates] with".
Invasion scenario
We note that we cannot fully discount the possibility of a Russian invasion of Ukraine because Russia's military actions in Ukraine have been unpredictable and opaque, as evident from Russia's sudden annexation of Crimea in 2014.
Alternate scenarios include a full-scale military invasion of Ukraine or a more limited, hybrid conflict intended to destabilise the Ukrainian government. Both scenarios are likely to draw a severe response from the US and its allies that could include more maximal use of sanctions (blocking the convertibility of the Russian ruble to US dollars and targeting Russian banks), restrictions on purchasing Russian secondary debt, and measures to punish Russia's oligarchs.
A full Russian invasion of Ukraine would also have broader geopolitical ramifications, forcing the US and Europe to refocus on Russia. While this would certainly strengthen NATO, it would divert resources from other US priorities, especially in the Pacific.